Southern Silver Exploration Corp. (SSV, TSX‐V) reported today that assay results from drilling on the Dragoon project, located 90 kilometres southeast of Tucson, Az., continue to outline thick, strongly anomalous intervals of copper and molybdenum mineralization. The assays are from the second hole drilled on the project by optionee Freeport‐McMoRan Exploration Corp. (FMEC), which tested an up‐thrown block of prospective stratigraphy located approximately 400 metres to the southeast of drill hole DS‐10‐01, results from which were reported in news release NR‐15‐10.
The drill hole was completed to a depth of 1055 metres and intersected over 500 metres of variably altered and mineralized Paleozoic marbles and porphyritic Laramide intrusive. Quartz veining and variable amounts of copper and molybdenum sulphides occur through much of the target interval. Several intervals of >0.1% copper occur in the hole including a 85.4 metre interval averaging 0.11% copper and a 12.2 metre interval averaging 0.24% copper within an overall interval extending 527 metres and averaging 0.06% copper. The hole passes into unmineralized Precambrian footwall rocks at a depth of 1000 metres.
Table 1: Select Composites from Dragoon Project Drilling

Results from this current hole reported an overall increase in grade throughout the mineralized interval and thicker intervals of more strongly elevated values (>0.1% Cu) when compared to earlier drilling by FMEC which returned a 402 metre interval averaging 0.05 per cent copper in hole DS‐10‐01. Southern Silver believes that these thick intervals of strongly anomalous copper and molybdenum mineralization, which were intersected in drill holes DS‐10‐01 and DS‐11‐02, are indicative of a large, widespread hydrothermal system that could produce potentially significant mineralization.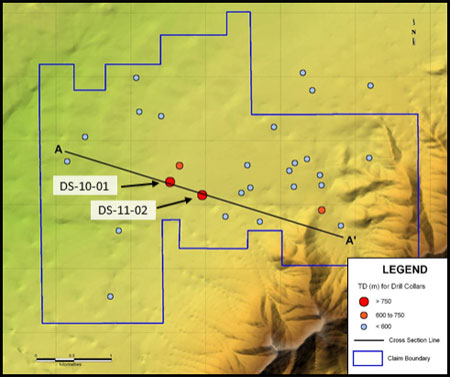 Figure 1: Location of current and historic drilling on the Dragoon Project. Historic drilling on the property tested for shallow targets. Only four known holes, including DS‐10‐01 and DS‐11‐02, have drilled deeper than 600 metres.
Southern Silver has the option to purchase the claims for the amount of $670,000 payable over four years with the last three payments of $350,000 being paid by FMEC on behalf of Southern Silver. FMEC has the option to earn a 70% interest in the claims by spending on exploration and development work the sum of $3 million by December 31, 2012. FMEC has advised Southern that permitting for an additional four exploration holes on the Dragoon Property is in process.
About Southern Silver Exploration Corp.
Southern Silver Exploration Corp. is an emerging precious/base metal exploration company and a member of the Manex Resource Group; a private company comprised of an exceptional multi‐disciplinary team of professionals with specific expertise in all the areas of exploration, development, corporate finance and public company administration.
The companyʹs growth strategy is to acquire, explore and develop high‐quality properties in progressive jurisdictions within North America. Its current projects include the silver‐lead‐zinc Cerro Las Mintas project and the copper‐gold‐silver Minas de Ameca in Mexico, the porphyry copper‐molybdenum Dragoon project in Arizona, and the gold‐silver Oro project in New Mexico.
‐30‐
Robert Macdonald (P.Geo) is a Qualified Person as defined by National Instrument 43‐101 and has reviewed and approved the technical contents of this release.
On behalf of the Board of Directors
"Lawrence Page"
Lawrence Page, President, Southern Silver Exploration Corp.
For further information, please visit the company's website at southernsilverexploration.com or contact Liana Shahinian at 1.888.456.1112 or by email at liana@mnxltd.com.
Neither TSX Venture Exchange nor its Regulation Services Provider (as that term is defined in the policies of the TSX Venture Exchange) accepts responsibility for the adequacy or accuracy of this release.
This news release may contain forward‐looking statements including but not limited to comments regarding the timing and content of upcoming work programs, geological interpretations, receipt of property titles, potential mineral recovery processes, etc. Forward‐looking statements address future events and conditions and therefore involve inherent risks and uncertainties. Actual results may differ materially from those currently anticipated in such statements. These statements are based on a number of assumptions, including, but not limited to, assumptions regarding general economic conditions, interest rates, commodity markets, regulatory and governmental approvals for Southern Silver's projects, and the availability of financing for Southern Silver's development projects on reasonable terms. Factors that could cause actual results to differ materially from those in forward looking statements include market prices, exploitation and exploration successes, the timing and receipt of government and regulatory approvals, and continued availability of capital and financing and general economic, market or business conditions. Southern Silver Exploration Corp. does not assume any obligation to update or revise its forward‐looking statements, whether as a result of new information, future events or otherwise, except to the extent required by applicable law.