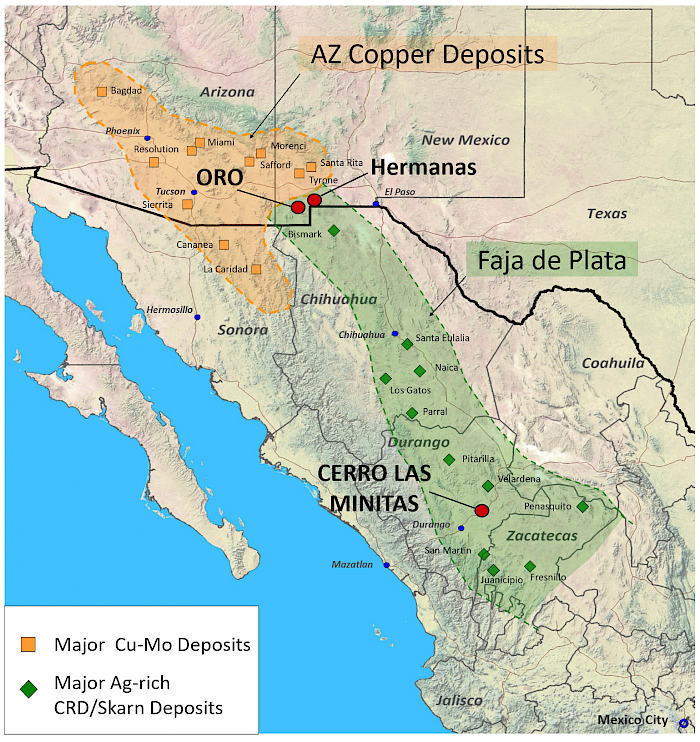 Southern Silver Exploration is a precious/base metal exploration company based in Vancouver, Canada and a member of the Manex Resource Group. The company's growth strategy is to acquire, explore and develop high-quality properties in progressive jurisdictions within North America.
Mexico
At over 340 sq. km in size, Southern Silver's Cerro Las Minitas project, located in Durango State, features a large land position in the prolific Faja de Plata (Belt of Silver) of northern Mexico. Since 2010, Southern has completed a comprehensive program involving surface exploration, airborne and ground geophysics followed by diamond drilling for 80,650 metres of coring in 186 holes. Four new deposits have been identified, as well as multiple high priority drill targets. On August 29th, 2022, the company released a preliminary economic assessment on the property.
USA
The 22.4 sq. km Oro Project covers the majority of the historic Eureka Mining District in Grant County, New Mexico. The company has identified multiple prospective drill targets throughout a 2 kilometre long mineralized corridor largely untested by modern exploration. Oro is a gold, silver and base metal project with excellent potential for discovery.
The Hermanas project consists of 83 lode claims on Federal land administered by the Bureau of Land Management. The claims are located approximately 40km east of Southern Silver's Oro Porphyry Copper/skarn/CRD project and cover an area of epithermal quartz veining approximately 4km by 3km.
Southern Silver is affiliated with Manex Resource Group, a private company comprised of an exceptional multi-disciplinary team of professionals, with specific expertise in all the areas of exploration, development and public company administration.
Project List