Southern Silver Exploration Corp. (TSX.V:SSV) reported today that new assays results have increased the down-hole thickness of mineralized intervals in the previously reported hole 11CLM-023 and continue to demonstrate continuity of mineralization along strike to the northwest in the Blind Zone, on its Cerro Las Minitas project located in Durango State, Mexico.
Highlights from the latest assay results include:
a 10.8 metre interval averaging 70.0g/t silver and 1.6% lead and 2.2% zinc which includes a 1.4 metre interval averaging 217g/t silver and 6.2% lead and 8.7 % zinc from drill hole 11CLM-023,
a 3.1 metre interval averaging 209g/t silver and 6.7% lead and 6.5% zinc from drill hole 11CLM-018 and,
a 0.5 metre interval averaging 920g/t silver and 18.4% lead and 11.1% zinc from drill hole 11CLM-021.
The reported mineralized interval in hole CLM-023 is in addition to a previously reported 11.5 metre interval averaging 140g/t silver, 4.9% lead, and 4.1% zinc (see NR-20-11) that occurs deeper in the hole. Furthermore, new shoulder sampling of this previously reported mineralization has now extended the interval to a 25.3 metres thickness averaging 69.9g/t silver, 2.0% lead and 2.3% zinc (see Table 1). These two combined intervals represent 36 metres of strong polymetallic mineralization along the projection of the main target horizon of the Blind zone. All mineralization is reported as down-hole intervals.
Drill holes 11CLM-018 and 11CLM-021 tested the down-dip projection of the Blind Zone to 150 metres and 45 metres respectively. The holes continue to provide continuity along 500 metres strike-length tested to date. The Blind zone, open along strike and to depth, is outboard of both the main intrusive stock and areas of historic mining and exploration and is the first of several buried targets identified on the property through IP geophysics to be drill tested.
Table 1: Summary of Select Composited Assays from the Cerro Las Minitas Project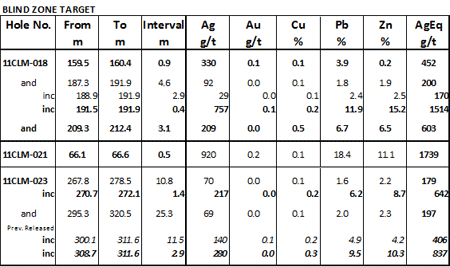 Analyzed by FA-ES/AA for gold and ICP-MS by ALS Chemex, Vancouver BC; Silver overlimits (>100g/t Ag) re-assayed with FA-Grav. AgEq calculation uses values that approximate the three year trailing average of the contained metals: $25 silver, $1150 gold, $2.5 copper and $1 lead and $1 zinc.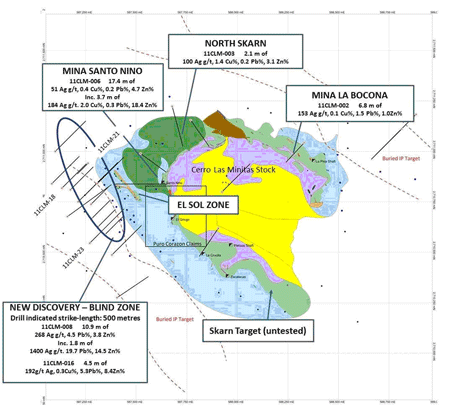 Figure 1: Drill Hole Distribution and Significant Targets – Cerro Las Minitas
Exploration Program
Twenty-seven drill holes totalling approximately 7400 metres of an anticipated and fully funded 18,000 metre drill program have been completed on the project to date. Seventeen holes have now been completed on the Blind zone and assays for five of these drill holes are still pending.
Future drilling will target specific occurrences located within the area of historic mining and several targets derived from the recently completed surface IP geophysical program.
For an up to date drill-hole plan and a full table of drill results please visit www.southernsilverexploration.com.
About the Cerro Las Minitas property
The Cerro Las Minitas property comprises 17 concessions which total 10,980 hectares and an approximate 25 kilometre lineal strike length. The property is located about 70 kilometres to the northeast of the city of Durango, Durango State, Mexico and is accessed easily by road.
Mining has been conducted on the property since Colonial times and has identified several types of silver-, lead- and zinc-enriched massive-sulphide pipes, veins and carbonate-replacement deposits (CRDs), as well as mineralized skarns at the margins of a large intrusive body. The Santa Eulalia replacement deposit (45Mt of 310g/t Ag, 7.1% Zn and 8.2% Pb) and the skarn deposit of San Martin (60Mt of 118g/t silver, 0.9% copper and 3.9% zinc) are examples of two major Mexican mines occurring in similar geological environments(1).
The mineralized zones at Cerro Las Minitas have been exploited to depths of 300 metres and over widths of 60 metres.
About Southern Silver Exploration Corp.
Southern Silver Exploration Corp. is a precious/base metal exploration company and a member of the Manex Resource Group; a private company comprised of an exceptional multi-disciplinary team of professionals with specific expertise in all areas of exploration, development, corporate finance and public company administration.
The company's growth strategy is to acquire, explore and develop high-quality properties in progressive jurisdictions within North America. Its current projects include the silver-lead-zinc Cerro Las Mintas project and the copper-gold-silver Minas de Ameca in Mexico, the porphyry copper-molybdenum Dragoon project in Arizona and the gold-silver Oro project in New Mexico.
-30-
Robert Macdonald (P.Geo) is a Qualified Person as defined by National Instrument 43-101 and has reviewed and approved the technical contents of this release.
Southern Silver advises that tonnage and grade of adjacent properties or those used for comparative purposes may not reflect the ultimate potential of the Cerro Las Minitas project
On behalf of the Board of Directors
"Lawrence Page"
Lawrence Page, President, Southern Silver Exploration Corp.
For further information, please visit the company's website at southernsilverexploration.com or contact Liana Shahinian at 1.888.456.1112 or by email at liana@mnxltd.com.
Neither TSX Venture Exchange nor its Regulation Services Provider (as that term is defined in the policies of the TSX Venture Exchange) accepts responsibility for the adequacy or accuracy of this release.
This news release may contain forward-looking statements including but not limited to comments regarding the timing and content of upcoming work programs, geological interpretations, receipt of property titles, potential mineral recovery processes, etc. Forward-looking statements address future events and conditions and therefore involve inherent risks and uncertainties. Actual results may differ materially from those currently anticipated in such statements. These statements are based on a number of assumptions, including, but not limited to, assumptions regarding general economic conditions, interest rates, commodity markets, regulatory and governmental approvals for the company's projects, and the availability of financing for the company's development projects on reasonable terms. Factors that could cause actual results to differ materially from those in forward looking statements include market prices, exploitation and exploration successes, the timing and receipt of government and regulatory approvals, and continued availability of capital and financing and general economic, market or business conditions. Southern Silver Exploration Corp. does not assume any obligation to update or revise its forward-looking statements, whether as a result of new information, future events or otherwise, except to the extent required by applicable law.