Southern Silver Exploration Corp. (TSX.V:SSV) reported today that drilling on the Cerro Las Minitas project, located in Durango State, Mexico, continues to extend laterally and to depth, projections of the known mineralized structures at both the Blind Zone and El Sol deposits.
Blind Zone
Three core holes were drilled to depths between 120 and 150 metres along the northwestern extension of the Blind zone with each hole returning multiple high-grade intercepts of silver-polymetallic mineralization.
High-grade assays include:
a 4.4 metre interval averaging 186g/t silver, 5.6g/t lead and 4.6% zinc (471g/t AgEq) from drill hole 12CLM-047,
a 0.8 metre interval grading 421g/t silver, 15.2% lead and 6.8% zinc (1030g/t AgEq) from drill hole 12CLM-045, and
a 0.5 metre interval grading 1040g/t silver, 16.7% lead and 2.9% zinc (1566g/t AgEq) from drill hole 12CLM-049
Drilling continues to extend the projection of the Blind zone mineralization at depth toward the northwest. Initial modelling of the Blind zone has identified three distinct mineralized structures that project along a 550 metre strike-length of the deposit. Several additional less continuous lenses of mineralization are also identified in the model. True thickness of the mineralized intervals are estimated at 65% to 75% of the down hole thicknesses.
El Sol Zone
Drilling on the EL Sol deposit continues to extend the northwestern extension of previously reported mineralization from drill hole 12CLM-027 (24.8 metres of 124g/t silver, 1.9%% lead and 2.1% zinc) and returned multiple intercepts of mineralization including:
a 0.8 metre interval grading 745g/t silver, 0.8% lead and 0.4% zinc (1252g/t AgEq) within a broader 5.9 metre interval averaging 133g/t silver, 1.3%lead and 0.5% zinc (260g/t AgEq) from drill hole 12CLM046
Whereas earlier drilling on this deposit targeted near surface mineralization (eg. 12CLM-027, 12CLM-034), drill hole 12CLM-046 significantly extends the depth projection of the El Sol zone to approximately 200 metres below surface. Additionally, drilling on the El Sol deposit has identified an approximate 250 metre cumulative strike-length in seven drill holes.
Company President, Lawrence Page stated "The Blind zone mineralization was identified through IP geophysics and subsequent drilling and has validated this method of identifying mineralization below gravel cover. While present drilling is identifying mineralization in the area of the Cerro Las Minitas intrusion, large portions of the 15,000 hectare mineral claims, which are overlain with gravel cover, contain geophysical anomalies similar to the anomalies at Cerro Las Minitas and will be tested in subsequent drill programs after the nature and extent of the mineralization presently being developed at Cerro Las Minitas is fully ascertained."
Table 1: Summary of Recent Select Composited Assays from the Cerro Las Minitas Project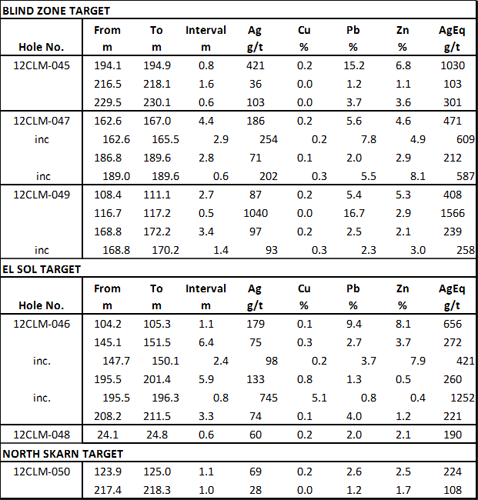 Analyzed by FA-ES/AA for gold and ICP-MS by ALS Chemex, Vancouver BC; Silver overlimits (>100g/t Ag) re-assayed with FA-Grav. AgEq calculation uses values that approximate the three year trailing average of the contained metals: $23.3 silver, $1250 gold, $3.15 copper and $0.9 lead and $0.9 zinc. AgEq calculations did not account for relative metallurgical recoveries of the metals.
2012 Exploration Program
Diamond drilling with two core rigs continues on the Cerro Las Minitas project. One drill rig remains dedicated to the delineation of mineralization in the Blind and El Sol zones. The second drill rig is testing specific occurrences located within the area of historic mining and several targets derived from the recently completed surface sampling and an IP geophysical program.
Twenty-nine drill holes totaling approximately 8,030 metres were completed on the project in 2011. An additional 5,977 metres in twenty-seven drill holes have been completed to date in 2012, two additional holes are in progress. Assays from six drill holes are pending.
The Company has scheduled 20,000 metres of core drilling in 2012, with the goal of completing a NI 43-101 compliant resource on these first set of targets by Q4 of 2012. This will be the initial milestone toward the Company's goal of delineating a larger, multi-million tonne, high-grade, silver-enriched polymetallic resource on the project.
For a current drill-hole plan and a full table of drill results please visit the company's website at www.southernsilverexploration.com.
About Southern Silver Exploration Corp.
Southern Silver Exploration Corp. is a precious and base metal exploration company and a member of the Manex Resource Group; a private company comprised of an exceptional multi-disciplinary team of professionals with specific expertise in all areas of exploration, development, corporate finance and public company administration.
The company's growth strategy is to acquire, explore and develop high-quality properties in progressive jurisdictions within North America. Its current projects include the silver-lead-zinc Cerro Las Mintas project and the copper-gold-silver Minas de Ameca in Mexico, the porphyry copper-molybdenum Dragoon project in Arizona and the gold-silver-copper Oro project in New Mexico.
-30-
Robert Macdonald (P.Geo) is a Qualified Person as defined by National Instrument 43-101 and has reviewed and approved the technical contents of this release.
On behalf of the Board of Directors
"Lawrence Page"
Lawrence Page, President, Southern Silver Exploration Corp.
For further information, please visit the Company's website at southernsilverexploration.com or contact Liana Shahinian at 1.888.456.1112 or by email at liana@mnxltd.com.
Neither TSX Venture Exchange nor its Regulation Services Provider (as that term is defined in the policies of the TSX Venture Exchange) accepts responsibility for the adequacy or accuracy of this release.
This news release may contain forward-looking statements including but not limited to comments regarding the timing and content of upcoming work programs, geological interpretations, receipt of property titles, potential mineral recovery processes, etc. Forward-looking statements address future events and conditions and therefore involve inherent risks and uncertainties. Actual results may differ materially from those currently anticipated in such statements. These statements are based on a number of assumptions, including, but not limited to, assumptions regarding general economic conditions, interest rates, commodity markets, regulatory and governmental approvals for the company's projects, and the availability of financing for the company's development projects on reasonable terms. Factors that could cause actual results to differ materially from those in forward looking statements include market prices, exploitation and exploration successes, the timing and receipt of government and regulatory approvals, and continued availability of capital and financing and general economic, market or business conditions. Southern Silver Exploration Corp. does not assume any obligation to update or revise its forward-looking statements, whether as a result of new information, future events or otherwise, except to the extent required by applicable law.