Southern Silver Exploration Corp. (the "Company" or "Southern Silver") (TSX.V:SSV) has granted Freeport-McMoRan Exploration Corporation ("Freeport") the right to earn an indirect 70% interest in the Cerro Las Minitas property in Durango, Mexico by making staged purchase payments and funding exploration and development expenditures of $25 million on the Cerro Las Minitas property over a maximum ten year period.
Subsequent to a sixty day Due Diligence period, Freeport will have the option to earn respective 51% and 19% indirect interests in the property through the acquisition of common shares of a Southern Silver subsidiary company which has the right to purchase a 100% interest in the property.
To acquire the initial 51% interest Freeport shall:
Pay to Southern Silver $600,000 on the effective date as a deduction from work expenditures, $100,000 on or before the first anniversary of the Effective Date, $200,000 on or before the second anniversary of the Effective Date and $300,000 on or before the third anniversary of the Effective Date.
Complete Expenditures with respect to the property over a three year period of $1.5 million in year one, $1.3 million in year two and $1.6 million in year three.
Pay the residual option payments to the Optionor of the property in the aggregate amount of $2.8 million prior to November 18, 2013 as a deduction from work expenditures.
To acquire the additional 19% interest Freeport shall elect within 90 days from the date of acquisition of the initial 51 % interest and:
Pay to Southern Silver on or before the tenth anniversary of the Effective Date $ 1 million.
Complete on or before the tenth anniversary of the Effective date a Feasibility Study involving the property and in doing so making additional Expenditures on the property of at least $19 million.
Upon acquisition of the initial 51% interest, operations on the Property will be conducted pursuant to a Shareholders' agreement with each shareholder bearing its proportionate share of further Expenditures on the property subject to the right of Freeport to elect to earn an additional 19% interest in the property and upon acquisition of the additional 19% interest, ongoing operations will be governed by the shareholders' agreement. Provision for dilution of a Participating Interest will apply and if a Participating Interest of a Party is diluted to less than 10% its Participating Interest will be converted to a 2% NSR. A Finder's fee may be paid to a Consultant with respect to the Freeport Agreement in accordance with policies of the TSX-V Exchange and subject to its approval thereof.
President Lawrence Page Q. C. said that this relationship with Freeport is the logical and appropriate stage in the evolution of the property from a promising exploration target to development of a resource which has potential to evolve into a world class deposit. "Since acquisition of an option to purchase a 100% interest in the property with no royalty burdens we have spent $ 5 million in acquisition costs and exploration and development expenses which has resulted in the definition of a significant silver/polymetalic resource and a new copper/gold discovery. Several zones of interest, indicated by geophysics, including possible targets buried under gravels, have yet to be tested, adding to the appeal of the project." Page said.
Cerro Las Minitas
The Cerro Las Minitas property lies within the Faja de Plata (Belt of Silver) and is located about 70 kilometres to the northeast of the city of Durango in Durango State, Mexico, and is accessed easily by road. The property comprises 18 concessions totaling 15,125 hectares in one of the most significant silver producing regions in the world with current reserves/resources and historic production in excess of 3 billion ounces of silver.
Southern Silver has explored the property since late 2010 and to date has completed airborne and ground geophysics over the project and 15,540 metres of core drilling in 62 drill holes. Mineralization occurs as massive-sulphide pipes, veins and replacement deposits distributed in the skarn-altered margins of a large intrusive body in a similar geological environment to that of major Mexican Carbonate Replacement Deposits (CRDs) such as Santa Eulalia (45Mt of 310g/t Ag, 7.1% Zn and 8.2% Pb) and Skarn deposits such as San Martin (60Mt of 118g/t silver, 0.9% copper and 3.9% zinc).
To date, two high-grade silver-polymetallic deposits, the Blind zone and El Sol zone, have been partially delineated and several other high priority targets have been identified throughout the property Geological modeling of the Blind and El Sol deposit using a nominal 80g/t AgEq cut-off has identified multiple distinct mineralized structures with a 820 metre cumulative strike-length, with depth projections of up to 300 metres below surface. Mineralization occurs in sub-vertical structures that demonstrate good continuity between drill holes. Mineralization is open on strike and at depth.
South Skarn Target
In addition to the higher level silver-polymetallic targets at the Blind and El Sol zones, there exists excellent exploration potential to developed deeper porphyry or skarn potential nearer the contact with the central monzonite intrusion. At the new South Skarn target, drilling encountered altered limestone and zones of diatreme breccia, hematite breccia, skarn-hornfels and aplite dyke before entering variably altered monzonite/feldspar porphyry. Strongly anomalous gold mineralization was identified over a 20 metre interval within the hematite breccia which averaged 0.8g/t gold and included a 4.3 metre interval averaging 2.8g/t gold and 28g/t silver. A second 4.3 metre interval averaging 1.4g/t gold, 89g/t silver and 1.8% copper was intersected further down hole and is hosted in chlorite-garnet skarn related to the adjacent intrusions. This style of mineralization is open along strike and at depth and clearly highlightsthe further exploration potential of the project area.
Select composites from the 2011-12 Drilling: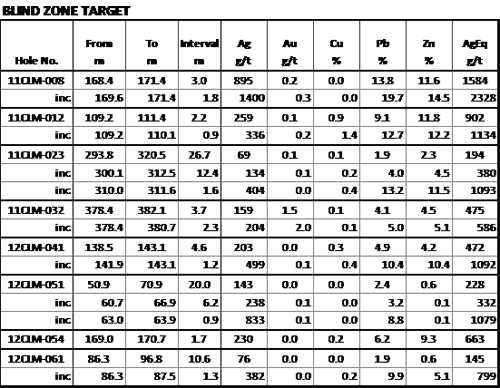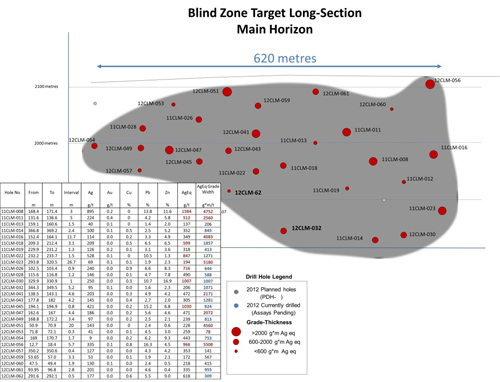 About Southern Silver Exploration Corp.
Southern Silver Exploration Corp. is a precious and base metal exploration company and a member of the Manex Resource Group; a private company comprised of an exceptional multi-disciplinary team of professionals with specific expertise in all areas of exploration, development, corporate finance and public company administration.
The company's growth strategy is to acquire, explore and develop high-quality properties in progressive jurisdictions within North America. Its current projects include the silver-lead-zinc Cerro Las Minitas project and the copper-gold-silver Minas de Ameca in Mexico, the porphyry copper-molybdenum Dragoon project in Arizona and the gold-silver-copper Oro project in New Mexico.
-30-
Robert Macdonald (P.Geo) is a Qualified Person as defined by National Instrument 43-101 and has reviewed and approved the technical contents of this release.
On behalf of the Board of Directors
"Lawrence Page"
Lawrence Page Q. C. , President, Southern Silver Exploration Corp.
For further information, please visit the Company's website at southernsilverexploration.com or contact Liana Shahinian at 1.888.456.1112 or by email at liana@mnxltd.com.
Neither TSX Venture Exchange nor its Regulation Services Provider (as that term is defined in the policies of the TSX Venture Exchange) accepts responsibility for the adequacy or accuracy of this release.
This news release may contain forward-looking statements including but not limited to comments regarding the timing and content of upcoming work programs, geological interpretations, receipt of property titles, potential mineral recovery processes, etc. Forward-looking statements address future events and conditions and therefore involve inherent risks and uncertainties. Actual results may differ materially from those currently anticipated in such statements. These statements are based on a number of assumptions, including, but not limited to, assumptions regarding general economic conditions, interest rates, commodity markets, regulatory and governmental approvals for the company's projects, and the availability of financing for the company's development projects on reasonable terms. Factors that could cause actual results to differ materially from those in forward looking statements include market prices, exploitation and exploration successes, the timing and receipt of government and regulatory approvals, and continued availability of capital and financing and general economic, market or business conditions. Southern Silver Exploration Corp. does not assume any obligation to update or revise its forward-looking statements, whether as a result of new information, future events or otherwise, except to the extent required by applicable law.