Southern Silver Exploration Corp. ("Southern Silver") reported today that Freeport-McMoRan Exploration Corporation ("FMEC") has provided to Southern Silver $250,000 which was utilized to pay the November, 2013 periodic option payment to the optionor of the Cerro Las Minitas mineral concessions in Durango State, Mexico. To date $2.5 million has been paid from funds provided by Southern Silver and FMEC towards a total purchase price of $4 million with the balance payable as follows:
$250,000 on February 18, 2014;
$250,000 on May 18, 2014;
$500,000 on November 18, 2014; and
$500,000 on March 18, 2015 (to be reduced to $100,000 if the optionor fails to deliver registered title to a specific non-core claim upon closing).
FMEC has supplied to Southern Silver $1.3 million of the total option payments paid to date and has the option to provide the balance of monies to complete the purchase as a portion of its earn-in of an indirect 70% interest in the mineral concessions.
Southern Silver also reported that the next phase of diamond drilling has started on the Cerro Las Minitas Project. Plans are for approximately 4,000 metres of core drilling. Seven sites have been selected for testing as a follow-up on earlier drilling funded by FMEC comprising 3,445 metres of drilling in eight holes which was successful in delineating new zones of mineralization at several target areas on the property (see NR-17-13, November 4, 2013).
The drilling program will continue to test the lateral and down dip extensions of the known mineralized zones and includes one hole on the recently acquired EL Sol concession (see NR-15-13, September 23, 2013) which could extend the on-strike potential of the previously identified zones of mineralization by upwards of 800 metres. Drilling is also planned to test the depth extension of mineralization at Mina Santo Nino, one of several historic small mining operations on the project, Zn-Ag-rich mineralization at the El Sol zone and IP/Res and gravity geophysical anomalies outboard and to the northeast of the central intrusion.
FMEC contract synopsis
To date, FMEC has funded total expenditures and payments of $3,127,103 as follows:
paid Southern Silver $700,000 in option payments;

funded $1,508,000 to the underlying optionor of the property as option payments; and

funded exploration costs of $919,103 on the project
(note: all references to money and $ refer to United States currency)
FMEC has been providing funding for, and directing, Southern Silver's subsidiary, Minera Plata del Sur, S.A. de C.V., to explore the property since October 2012 and holds an option to earn a 70% indirect interest in the project by making staged purchase payments and funding exploration and development expenditures of $25 million on the project over a ten year period. Included in the gross interest is an initial 51% interest to be earned in the first three years of the agreement by expenditure of $5 million. FMEC has now met and exceeded the first year earn-in requirements of the option.
Figure: Proposed FMEC target areas for 2013-14 Cerro Las Minitas drilling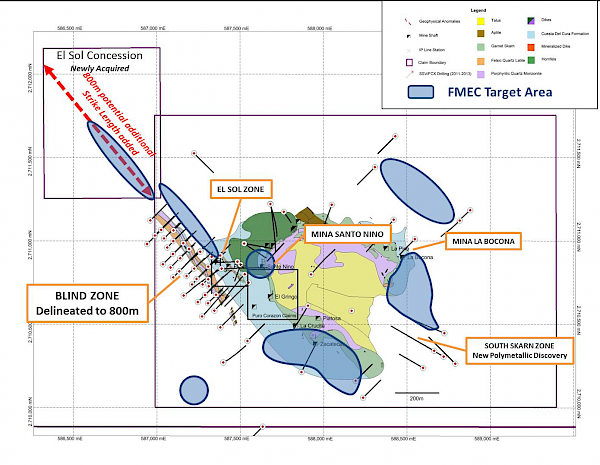 About Southern Silver Exploration Corp.
Southern Silver Exploration Corp. is a precious and base metal exploration and development company and a member of the Manex Resource Group; a private company comprised of an exceptional multi-disciplinary team of professionals with specific expertise in all areas of exploration, development, corporate finance and public company administration.
The company's growth strategy is to acquire, explore and develop either directly or through joint venture relationships high-quality mineral properties in progressive jurisdictions within North America including Southern Silver's silver-lead-zinc Cerro Las Minitas project located in Durango, Mexico
Freeport-McMoRan Exploration Corporation currently holds an option to earn a 70% indirect interest in the project by making staged purchase payments and funding exploration and development expenditures of $25 million on the project over a ten year period.
Desert Star Resources Ltd. has the option to earn up to a 70% interest in the gold-silver-copper Oro project in New Mexico by making cash payments to underlying optionors, issuing one million shares, completing a preliminary economic assessment and incurring exploration expenditures of $6 million on the property over a period of 66 months. Southern Silver is currently advancing the porphyry copper-molybdenum Dragoon project in Arizona.
-30-
Robert Macdonald (P.Geo) is a Qualified Person as defined by National Instrument 43-101 and has reviewed and approved the technical contents of this release.
On behalf of the Board of Directors
"Lawrence Page"
Lawrence Page, Q.C.
President and Director, Southern Silver Exploration Corp.
For further information, please visit Southern Silver's website at southernsilverexploration.com or contact us at 1.888.456.1112 or by email at info@mnxltd.com.
Neither TSX Venture Exchange nor its Regulation Services Provider (as that term is defined in the policies of the TSX Venture Exchange) accepts responsibility for the adequacy or accuracy of this release.
This news release may contain forward-looking statements including but not limited to comments regarding the timing and content of upcoming work programs, geological interpretations, receipt of property titles, potential mineral recovery processes, etc. Forward-looking statements address future events and conditions and therefore involve inherent risks and uncertainties. Actual results may differ materially from those currently anticipated in such statements. These statements are based on a number of assumptions, including, but not limited to, assumptions regarding general economic conditions, interest rates, commodity markets, regulatory and governmental approvals for the company's projects, and the availability of financing for the company's development projects on reasonable terms. Factors that could cause actual results to differ materially from those in forward looking statements include market prices, exploitation and exploration successes, the timing and receipt of government and regulatory approvals, and continued availability of capital and financing and general economic, market or business conditions. Southern Silver Exploration Corp. does not assume any obligation to update or revise its forward-looking statements, whether as a result of new information, future events or otherwise, except to the extent required by applicable law.