Southern Silver Exploration Corp. ("Southern Silver"; SSV-TSX.V) reported today that its wholly owned subsidiary, Minera Plata del Sur, S.A. de C.V., under the direction of Freeport-McMoRan Exploration Corporation (FMEC), has completed an initial eight core hole, 3445 metre drill program on the company's Cerro Las Minitas project located in Durango, Mexico. Freeport-McMoRan Exploration Corporation holds a right to acquire up to a 70% indirect interest in the project.
The program targeted both lateral and vertical offsets to known mineralized zones at the South Skarn, Blind Zone and El Sol targets as well as several geophysical and geochemical targets throughout the property and was successful in both confirming the distribution of high-grade mineralization in the Blind zone and identifying significant extensions of mineralization at each of El Sol and South Skarn targets. Logging and sampling of the holes is complete; data compilation and interpretation of all results is underway to define additional drill targets in the next phase of exploration.
"Results from three holes in the current program (13CLM-066, -068, -069) highlight extensions ofmineralization in the El Sol - Puro Corazon area as well as in the underexplored southeastern part of the intrusive – sediment contact. Since acquisition of the property in 2010, drilling on the project has totaled 19,149 metres in 70 drill holes and has outlined several significant zones of mineralization. To date FMEC has spent approximately US $2,400,000 of its initial expenditures of US $5,000,000 required to earn an initial 51% indirect interest in the project. We are very pleased with their progress expanding on the results derived from our expenditure of approximately $4,000,000 in exploration and acquisition costs on the project which includes 15,704 metres of drilling resulting in the identification of several mineralized zones; we expect subsequent work to continue expanding the size and scope of the project." said Lawrence Page Q. C., President.
Blind Zone – El Sol Zone
A single west to east oriented 680 metre drill hole was used to test both a shallow offset of mineralization within the Blind zone and the depth projection of mineralization in the adjacent El Sol zone, and returned extremely encouraging results which include:
a 9.2 metre interval averaging 401g/t silver, 8.5% lead and 5.1% zinc (777g/t AgEq) including a 2.1 metre interval 1190g/t silver, 21.6% lead and 13.0% zinc (2120 g/t AgEq) from the top of drill hole 13CLM-066;
a 50.6 metre interval averaging 41g/t silver, 0.7% lead and 5.3% zinc (202g/t AgEq) including a 12.2 metre interval averaging 45g/t silver, 1.7% lead and 10.8% zinc (379g/t AgEq) intersected at over 500 metres below surface; and
a separate 9.3 metre interval averaging 9.4g/t silver, 0.1% copper and 13.0% zinc (369g/t AqEq) which was intersected 600 metres below surface near the bottom of drill hole 12CLM-066
The upper interval is a lateral offset from hole 13CLM-056 (5.7m of 335g/t Ag, 14.5% Pb and 4.5% Zn) which confirms the continuity of shallow high-grade silver mineralization in the upper portions of the Blind zone target. The deeper intercepts project to previously identified, near surface, mineralization in the adjacent El Sol zone which had been tested during 2012 exploration to less than 200 metres depth. The above intercepts are reported as down-hole thickness. True thickness of the mineralized intervals is estimated at about 40% of the reported thickness.
South Skarn Target
Four core holes totaling 1722 metres were drilled into the South Skarn target during this phase of exploration. Three holes tested the target over a 250 metre strike length and 300 metre depth, one hole was abandoned prior to reaching target depth. Significant results include:
a 13.9 metre interval averaging 136g/t silver, 2.4% lead and 1.3% zinc (250g/t AgEq) including a 2.4 metre interval 545g/t silver, 10.3% lead and 3.8% zinc (943 g/t AgEq) from hole 13CLM-068; and
a 2.2 metre interval averaging 0.7g/t Au, 225g/t silver, 3.5% lead and 0.5% zinc (385g/t AgEq) from hole 13CLM-069
Mineralization in the South Skarn target is open both along strike to the northeast toward the historic La Bacona Mine and at depth. Accurate orientations of the mineralized zones have not been determined; however mineralization appears to dip moderately to steeply southward. True thickness of the mineralized intervals may be up to +70% of the reported thickness.
These latest results clearly demonstrate both the vertical projection of mineralization in the El Sol zone but also the potential for significant depth extensions to mineralization in other parts of the property.
Figure: Location of drilling on Cerro Las Minitas Project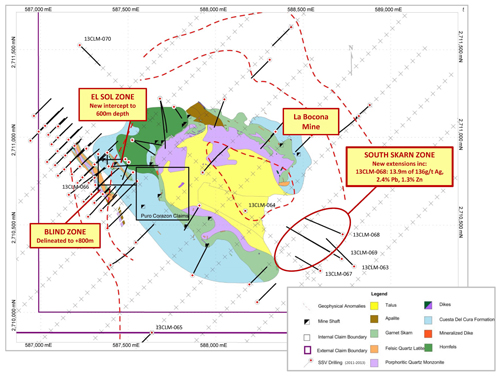 Table: Select Composites from 2013 Cerro Las Minitas Drilling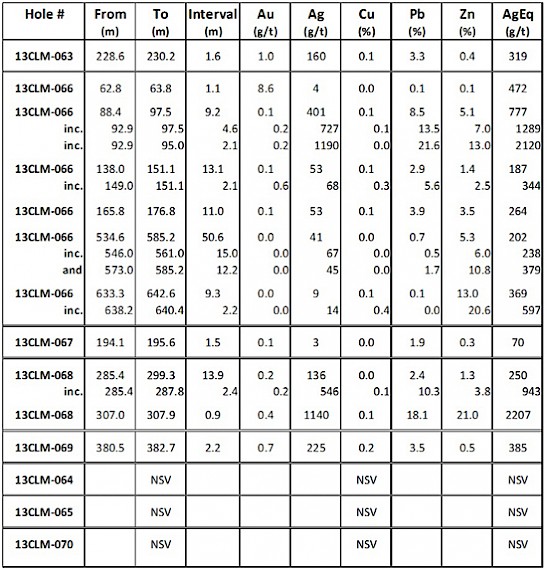 Analyzed by FA-ES/AA for gold and ICP-MS by ALS Chemex, Vancouver BC; Silver overlimits (>100g/t Ag) re-assayed with FA-Grav. AgEq was calculated using the following values: $23.3 silver, $1255 gold, $3.15 copper and $0.9 lead and $0.9 zinc. AgEq calculations did not account for relative metallurgical recoveries of the metals.
Corporate Update
Graham Thatcher has been appointed Chief Financial Officer of the Company to replace Mahesh Liyanage who has resigned such position. The company and the board of directors thank Mr. Liyanage for his service to the company. Mr. Thatcher moved from London, England to Vancouver, British Columbia in 2006. Specializing in financial reporting and auditing across a breadth of business sectors in both the UK and Canada, he brings extensive experience of operating with International Financial Reporting Standards and paperless systems. He is also senior accountant at Manex Resource Group which provides administrative, financial, corporate, corporate finance and geological services to a number of public companies in the mineral resource sector.
About Southern Silver Exploration Corp.
Southern Silver Exploration Corp. is a precious and base metal exploration and development company and a member of the Manex Resource Group; a private company comprised of an exceptional multi-disciplinary team of professionals with specific expertise in all areas of exploration, development, corporate finance and public company administration.
The company's growth strategy is to acquire, explore and develop either directly or through joint venture relationships high-quality mineral properties in progressive jurisdictions within North America including Southern Silver's silver-lead-zinc Cerro Las Minitas project located in Durango, Mexico. Freeport-McMoRan Exploration Corporation currently holds an option to earn a 70% indirect interest in the project by making staged purchase payments and funding exploration and development expenditures of $25 million on the project over a ten year period.
Desert Star Resources Ltd. has the option to earn up to a 70% interest in the gold-silver-copper Oro project in New Mexico by making cash payments to underlying optionors, issuing one million shares, completing a preliminary economic assessment and incurring exploration expenditures of $6 million on the property over a period of 66 months. Southern Silver is currently advancing the porphyry copper-molybdenum Dragoon project in Arizona and the Minas de Ameca silver, lead-zinc project in Jalisco, Mexico.
-30-
Robert Macdonald (P.Geo) is a Qualified Person as defined by National Instrument 43-101 and has reviewed and approved the technical contents of this release.
On behalf of the Board of Directors
"Lawrence Page"
Lawrence Page, Q.C.
President & Director, Southern Silver Exploration Corp.
For further information, please visit Southern Silver's website at southernsilverexploration.com or contact Liana Shahinian at 1.888.456.1112 or by email at liana@mnxltd.com.
Neither TSX Venture Exchange nor its Regulation Services Provider (as that term is defined in the policies of the TSX Venture Exchange) accepts responsibility for the adequacy or accuracy of this release.
This news release may contain forward-looking statements including but not limited to comments regarding the timing and content of upcoming work programs, geological interpretations, receipt of property titles, potential mineral recovery processes, etc. Forward-looking statements address future events and conditions and therefore involve inherent risks and uncertainties. Actual results may differ materially from those currently anticipated in such statements. These statements are based on a number of assumptions, including, but not limited to, assumptions regarding general economic conditions, interest rates, commodity markets, regulatory and governmental approvals for the company's projects, and the availability of financing for the company's development projects on reasonable terms. Factors that could cause actual results to differ materially from those in forward looking statements include market prices, exploitation and exploration successes, the timing and receipt of government and regulatory approvals, and continued availability of capital and financing and general economic, market or business conditions. Southern Silver Exploration Corp. does not assume any obligation to update or revise its forward-looking statements, whether as a result of new information, future events or otherwise, except to the extent required by applicable law.