Southern Silver Exploration Corp. ("Southern Silver") reported today that Freeport-McMoRan Exploration Corporation ("FMEC") has provided to Southern Silver $475,000, utilized as to $250,000 to pay the February 2014 periodic option payment to the optionor of the Cerro Las Minitas mineral concessions ("CLM Option") with the balance of $225,000 utilized in exploration expenses on the property.
FMEC Option status:
To date, FMEC has provided Southern Silver with $4,107,103 utilized as follows:
paid Southern Silver $700,000 in option payments;
funded $1,798,000, including applicable taxes, to the CLM optionor as option payments; and
funded exploration costs of $1,609,103 on the project.
(Note: all references to money and $ refer to United States currency)
FMEC has been providing funding for, and directing, Southern Silver's subsidiary, Minera Plata del Sur, S.A. de C.V., to explore the property since October 2012 and holds an option to earn a 70% indirect interest in the project by making staged purchase payments and funding exploration and development expenditures of $25 million on the project over a ten year period. Included in the gross interest is an initial 51% interest to be earned in the first three years of the agreement by expenditure of $5 million. FMEC has now met and exceeded the first year earn-in requirements of the option.
Underlying CLM Option agreement status:
To date $2.75 million has been paid to the CLM Optionor from funds provided by Southern Silver and FMEC towards a total purchase price of $4 million with the balance payable, plus applicable taxes, as follows:
$250,000 on May 18, 2014;
$500,000 on November 18, 2014; and
$500,000 on March 18, 2015 (to be reduced to $100,000 if the optionor fails to deliver registered title to a specific non-core claim upon closing).
Exploration Update
Southern Silver also reported that FMEC has completed a second phase of exploration on the Cerro Las Minitas project including 2,055 metres of new drilling together with further surface sampling and geophysical surveys on targeted areas throughout the larger property.
Three new core holes were drilled and three previously cored holes were extended in a program that was designed to test several IP and gravity geophysical targets outboard of the central intrusion and the depth extensions of known mineralization in the Blind and El Sol zones. The program was successful in identifying additional high-grade Ag-Pb-Zn mineralization to depths of up to 550 metres in the El Sol zone from hole 13CLM-071 and in identifying a potential new target along the southwestern margin of the central intrusive (hole 13CLM-073). Drilling at the South Skarn target was inconclusive as the proposed extension of hole 13CLM-069 was lost prior to completion to planned target depth.
Drilling on the recently acquired El Sol claim (13CLM-072) tested a thick skarn interval, over several tens of metres, associated with altered and pyritic intrusive indicating a potential northwestward extension of the mineralizing system onto this part of the property.
Biogeochemical sampling of Acacia plants was performed late in 2013 and identified multi-element anomalies inclusive of copper in several localities throughout the larger property and was followed up with further IP geophysics over one target area.
Compilation of the latest drill results and surface data continues with the aim of continued exploration of the project over the coming weeks including further deep drilling along the margins and within the central intrusive.
Table: Selected Drill Intercepts from Cerro Las Minitas Property
Analyzed by FA-ES/AA for gold and ICP-MS by ALS Chemex, Vancouver BC; Silver overlimits (>100g/t Ag) re-assayed with FA-Grav. AgEq calculation uses values that approximate the three year trailing average of the contained metals: $23.3 silver, $1250 gold, $3.15 copper and $0.9 lead and $0.9 zinc. AgEq calculations did not account for relative metallurgical recoveries of the metals.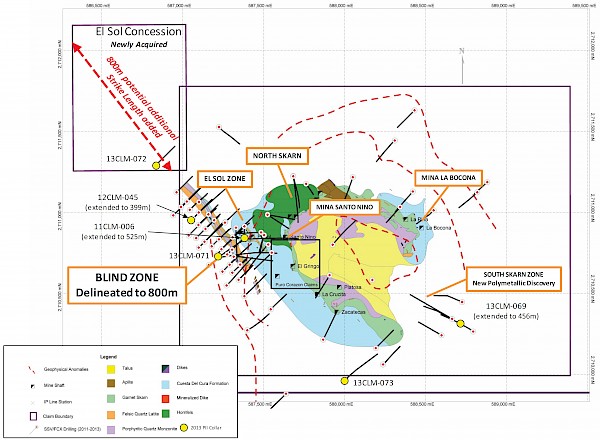 Figure: Drill Hole Locations Cerro Las Minitas Phase II Program
Corporate Update
Southern Silver announces that Scott Hean has resigned as a director effective January 10, 2014. Southern Silver's board of directors thanks him for his efforts on behalf of the company and wishes him well in his future endeavors.
About Southern Silver Exploration Corp.
Southern Silver Exploration Corp. is a precious and base metal exploration and development company, and a member of the Manex Resource Group; a private company comprised of an exceptional multi-disciplinary team of professionals with specific expertise in all areas of exploration, development, corporate finance and public company administration.
The company's growth strategy is to acquire, explore and develop either directly or through joint venture relationships high-quality mineral properties in progressive jurisdictions within North America including Southern Silver's silver-lead-zinc Cerro Las Minitas project located in Durango, Mexico. Freeport-McMoRan Exploration Corporation currently holds an option to earn a 70% indirect interest in the project by making staged purchase payments and funding exploration and development expenditures of $25 million on the project over a ten year period.
Desert Star Resources Ltd. has the option to earn up to a 70% interest in the gold-silver-copper Oro project in New Mexico by making cash payments to underlying optionors, issuing one million shares, completing a preliminary economic assessment and incurring exploration expenditures of $6 million on the property over a period of 66 months. Southern Silver is currently advancing the porphyry copper-molybdenum Dragoon project in Arizona.
-30-
Robert Macdonald (P.Geo) is a Qualified Person as defined by National Instrument 43-101 is responsible for the compilation and review of the technical content of this release.
On behalf of the Board of Directors
"Lawrence Page"
Lawrence Page, Q.C.
President & Director, Southern Silver Exploration Corp.
For further information, please visit Southern Silver's website at southernsilverexploration.com or contact us at 1.888.456.1112 or by email at info@mnxltd.com.
Neither TSX Venture Exchange nor its Regulation Services Provider (as that term is defined in the policies of the TSX Venture Exchange) accepts responsibility for the adequacy or accuracy of this release.
This news release may contain forward-looking statements including but not limited to comments regarding the timing and content of upcoming work programs, geological interpretations, receipt of property titles, potential mineral recovery processes, etc. Forward-looking statements address future events and conditions and therefore involve inherent risks and uncertainties. Actual results may differ materially from those currently anticipated in such statements. These statements are based on a number of assumptions, including, but not limited to, assumptions regarding general economic conditions, interest rates, commodity markets, regulatory and governmental approvals for the company's projects, and the availability of financing for the company's development projects on reasonable terms. Factors that could cause actual results to differ materially from those in forward looking statements include market prices, exploitation and exploration successes, the timing and receipt of government and regulatory approvals, and continued availability of capital and financing and general economic, market or business conditions. Southern Silver Exploration Corp. does not assume any obligation to update or revise its forward-looking statements, whether as a result of new information, future events or otherwise, except to the extent required by applicable law.