Southern Silver Exploration Corp. (TSX.V:SSV) ("Southern") reported today assays results from the first three holes of the +10,000 metre 2015 core drilling program on the Cerro Las Minitas project, located in Durango State, Mexico. Drilling successfully identified a new high-grade gold-silver polymetallic discovery on the project ("Mina La Bocona Extension") and further extensions to the previously identified Blind and El Sol Deposits.
Highlights from the Discovery Hole 15CLM-078 at Mina La Bocona include:
a 7.8m down hole interval (3.9m est. TT) averaging 13.5g/t Au, 37g/t Ag, 2.2% Pb and 1.7% Zn (1093g/t AgEq);
a 16.5m down hole interval (8.2m est. TT) averaging 0.5g/t Au, 150g/t Ag, 3.7% Pb and 0.7% Zn, (325g/t AgEq) including a 4.2m down hole interval (2.1m est. TT) averaging 1.1g/t Au, 354g/t Ag, 7.9% Pb and 0.7% Zn (724g/t AgEq); and
a 7.2 metre down hole interval (3.6m est. TT) averaging 0.2g/t Au, 584g/t Ag, 10.4% Pb and 1.4% Zn (1001g/t AgEq) including a 4.5m down hole interval (2.2m est. TT) 0.2g/t Au, 903g/t Ag, 16.1% Pb and 2.2% Zn (1547g/t AgEq)
Mina La Bocona Extension – New Discovery
Drill hole 15CLM-078 tested the east side of the central intrusion and was collared approximately 350 metres east of the Mina La Bocona workings which were formerly mined by artisanal workers to depths of about 220 metres. The hole drilled to the southwest and into the eastern margin of the central intrusion. Mineralization identified in the hole is approximately 1.25 kilometres from the Blind and El Sol deposits. This is the only hole to have tested this new discovery to date, the dimensions of which are currently unknown.
Seven separate high-grade mineralized intervals were intersected in the hole ranging from 1.9 metres to 16.5 metres (down hole thickness) including an oxidized high-grade gold zone in the upper 100 metres of the drill hole and gold-enriched massive sulphides deeper in the hole.
Some intervals in the high-grade gold-polymetallic zone are strongly oxidized with poor core recovery (~35-40%) and are interpreted as an enriched zone of dissolution breccia formed by the weathering of gold-enriched massive sulphide bands similar to those intersected deeper in the hole. Check assays of new pulps from the high-grade gold interval confirmed the original analyses.
The deepest intercepts in this hole may be interpreted as the southern extension of the La Bocona chimney, however many of the drilled intercepts are located well outboard of the chimney and likely represent new, previously unrecognized mineralized structures. The location and position of this mineralization with respect to the Bocona chimney is similar to the spatial relationship between the Blind and El Sol deposits on the western side of the central intrusion and the historic Mina Santo Nino and Puro Corazon mines. Work by Southern Silver over the last several years has delineated the Blind and El Sol deposits to a cumulative strike length of 820 metres and up to 600 metres depth.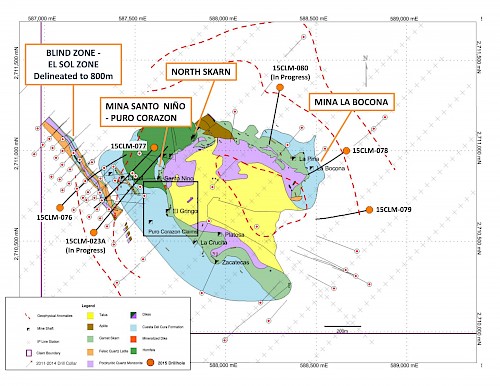 Figure 1: Plan Map of the showing the distribution of the 2015 drilling at Cerro Las Minitas
Blind – El Sol Deposit
Drilling also identified silver-enriched polymetallic mineralization down-dip and along strike of previously delineated mineralized zones in two holes which tested the Blind and El Sol deposits.
Several new zones of mineralization were identified in drill hole 15CLM-077 and are summarized in Table 1; highlighted by a 0.6m down hole intercept (0.3m est. TT) averaging 1380g/t Ag, 7.9%Pb and 2.4% Zn (1745g/t AgEq) within a broader 2.4m (1.3m est. TT) interval averaging 391g/t Ag, 2.6%Pb and 0.8% Zn (511g/t AgEq).
This is the deepest mineralization encountered in hole 15CLM-077 and is likely +200 metre sub-vertical offset of similar strongly Ag-Pb enriched Blind Zone mineralization identified in earlier drilling.
President Lawrence Page Q. C. said that "initial results from this phase of the 10,000 metre program have encouraged the Company and its Optionee, Electrum Global Holdings LP ("Electrum") to extend this phase of drilling past the planned 10,000 metres through drilling of additional exploration/development holes in both mineralized areas and exploratory holes in other anomalous areas of the 1370 hectare district. Electrum has indicated a willingness to continue to fund on an accelerated basis an expanded phase 1 program in excess of phase 1 expenditures of $US 2.0 million and as part of its $US 5.0 million earn-in obligation."
Table 1: Summary Assays from 2015 Drilling on the Cerro Las Minitas Property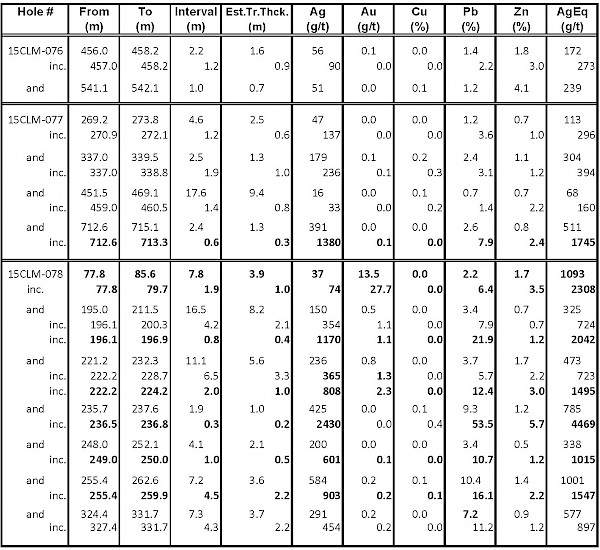 Analyzed by FA/AA for gold and ICP-AES by ALS Laboratories, North Vancouver, BC. Silver (>100ppm), copper, lead and zinc (>1%) overlimits assayed by ore grade ICP analysis, High silver overlimits (>1500g/t Ag) and gold overlimits (>10g/t Au) re-assayed with FA-Grav. High Pb overlimits (>20%) assayed by titration. AgEq was calculated using the approximate 2 year trailing average metal prices as of September 25, 2015: US$18.2/oz silver, US$1240/oz gold, US$2.8/lbs copper and US$0.9/lbs lead and US$0.9/lbs zinc. AgEq calculations did not account for relative metallurgical recoveries of the metals.
Estimated true thicknesses were calculated for the Blind Zone and the El Sol Zone using down-dip projections of mineralization. Estimated true thickness were calculated for the La Bocona extension by assuming vertical structures perpendicular to drill core.
2015-16 Exploration Program
Drilling continues on the initial +10,000 metre core hole program on the Cerro Las Minitas project which is targeting known zones of mineralization and new additional discoveries on the property. Two drills are currently on the project and have completed 3640 metres of drilling in six holes to date.
The 2015 exploration program is funded through an option agreement with Electrum Global Holdings L.P., which can earn an indirect 60% interest in the property by funding staged exploration expenditures of US$5.0 million over a 4 year period (see NR-05-15, May 19, 2015). In addition, approximately 46.0% of Southern Silver is controlled by Electrum Global Holdings L.P. making it fully engaged in the successful development of the Cerro Las Minitas Project.
The 2015 program follows earlier exploration work by Southern Silver totaling 23,310 metres of diamond drilling in 75 core holes resulting in the identification of two new mineral deposits known as the Blind and El sol zones, airborne magnetic geophysics over the entire property and gravity and IP geophysics in specific targeted areas which will form the basis for planned exploration drilling.
For a current drill-hole plan and a full table of drill results please visit the company's website at www.southernsilverexploration.com.
About Southern Silver Exploration Corp.
Southern Silver Exploration Corp. is a precious and base metal exploration and development company with a focus on mineral deposits in north-central Mexico and the southern USA. The Company engages in the acquisition, exploration and development either directly or through joint venture relationships in mineral properties in major jurisdictions. Our projects include the Cerro Las Minitas silver-lead-zinc project located in Durango, Mexico and the Oro porphyry copper-gold project located in southern New Mexico, USA.
Robert Macdonald, MSc., P.Geo, is a Qualified Person as defined by National Instrument 43-101 and responsible for the supervision of the exploration on the Cerro Las Mintas Project and for the preparation of the technical information in this disclosure.
On behalf of the Board of Directors
"Lawrence Page"
Lawrence Page, Q.C.
President & Director, Southern Silver Exploration Corp.
For further information, please visit Southern Silver's website at southernsilverexploration.com or contact us at 604.641.2759 or by email at ir@mnxltd.com.
Neither TSX Venture Exchange nor its Regulation Services Provider (as that term is defined in the policies of the TSX Venture Exchange) accepts responsibility for the adequacy or accuracy of this release.
This news release may contain forward-looking statements. Forward-looking statements address future events and conditions and therefore involve inherent risks and uncertainties. Actual results may differ materially from those currently anticipated in such statements. Factors that could cause actual results to differ materially from those in forward looking statements include the timing and receipt of government and regulatory approvals, and continued availability of capital and financing and general economic, market or business conditions. Southern Silver Exploration Corp. does not assume any obligation to update or revise its forward-looking statements, whether as a result of new information, future events or otherwise, except to the extent required by applicable law.