Southern Silver Exploration Corp. (TSX.V:SSV) ("Southern Silver") continues to advance the Cerro Las Minitas project with the approval of a 2016 Phase I Exploration Budget and receipt of US$750,000 in funding from Electrum Global Holdings L.P. ("Electrum"), which is financing a broad range of exploration activities to earn a 60% interest in the project. Crew mobilization is underway with work on the property expected to begin in the first week of April.
Following a very successful 2015 exploration program, Southern Silver, as Operator, will undertake approximately 2250 metres of drilling in three holes for a budget of USD$750,000. Southern Silver will continue to focus on expanding the overall size of the deposit initially with two drill holes, targeting the southeastern extensions of the Blind and El Sol deposits which will offset thick intercepts of high-grade mineralization from 2015 drilling in 15CLM-25 (12.8m est true thickness averaging 113g/t Ag, 0.5g/t Au, 0.4% Cu, 0.9% Pb and 3.6% Zn) and 15CLM-81(8.7m est true thickness of 136g/t Ag, 0.5% Cu, 0.3% Pb, 4.5% Zn). A third hole may test further offsets of these zones or alternatively high-grade, precious-metal enriched mineralization in the Mina La Bocona area (see Figure 1) where the 2015 discovery hole returned an 8.2m est. true thickness of 0.5g/t Au, 150g/t Ag, 3.7% Pb and 0.7% Zn (325g/t AgEq) in drill hole 15CLM-078.
This round of exploration is designed to build on Southern Silver's recent announcement of its maiden Mineral Resource Estimate of the Cerro Las Minitas project (see NR-04-16, March 21, 2016 and Table in this release) which totaled:
Indicated: 10.8Mozs Ag, 189Mlbs Pb and 207Mlbs Zn (36.5Mozs AgEq); and
Inferred: 17.5Mozs Ag, 237Mlbs Pb and 626Mlbs Zn (77.3Mozs AgEq)
Electrum has previously contributed a total of US$2.0 million towards exploration and has earned an indirect 30% interest in the Cerro Las Minitas project. Electrum also has the right to earn an additional 20% by expending US$1.5 million in exploration expenditures by May 2019, of which US$750,000 has been advanced to fund 2016 operations. An additional 10% interest may be earned by advancing an additional US$1.5 million in exploration expenditures during this same time period.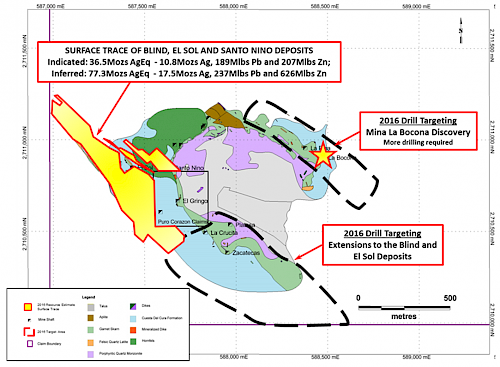 Figure 1: Plan map of the area of the Cerro showing the location of the known mineral deposits and target areas for 2016 Exploration
2016 Mineral Resource Estimate – Base Case Utilizing a 150g/t AgEq cut-off

Notes:
1) Mineral Resource Estimate as of March 21, 2016, utilizing a 150g/t AgEq cut-off value
2) The current Resource Estimate was prepared by Garth Kirkham, P.Geo. of Kirkham Geosciences Ltd.
3) CIM definitions were followed for Mineral Resources
4) Mineral resources were constrained using mainly geological constraints and approximate 10g/t AgEq grade shells
5) Mineral Resources were estimated using a long term prices of $15/oz silver, $1,100/oz gold, $2.75/lb Cu, $0.90/lb lead and $0.90/lb zinc
Mineral Resources that are not Mineral Reserves do not have demonstrated economic viability. Inferred Resources are considered too speculative geologically to have economic considerations applied to them that would enable them to be classified as Mineral Reserves. There is no assurance that any part of the Inferred Resource will be converted to Measured or Indicated Mineral Resources or ultimately converted to a Mineral Reserve.
About Southern Silver Exploration Corp.
Southern Silver Exploration Corp. is a precious metal exploration and development company with a focus on the discovery of world class mineral deposits in north-central Mexico and the southern USA with specific emphasis on the Cerro Las Minitas silver-lead-zinc project located in the heart of Mexico's Faja de Plata which hosts multiple world class mineral deposits such as Penasquito, San Martin, Naica and Pitarilla. We have assembled a team of highly experienced technical, operational and transactional professionals to support our exploration efforts in developing the Cerro Las Minitas project into a premier, high-grade, silver-lead-zinc mine. The Company engages in the acquisition, exploration and development either directly or through joint venture relationships in mineral properties in major jurisdictions. Our property portfolio also includes the Oro porphyry copper-gold project located in southern New Mexico, USA.
Robert Macdonald, MSc., P.Geo., is a Qualified Person as defined by National Instrument 43-101 and responsible for the supervision of the exploration on the Cerro Las Minitas Project and for the preparation and review of the technical results in this disclosure. Garth Kirkham, P.Geo., and Principal of Kirkham Geosciences Limited is the Independent Qualified Person responsible for the preparation and disclosure of the Mineral Resource Estimate.
On behalf of the Board of Directors
"Lawrence Page"
Lawrence Page, Q.C.
President & Director, Southern Silver Exploration Corp.
For further information, please visit Southern Silver's website at southernsilverexploration.com or contact us at 604.641.2759 or by email at ir@mnxltd.com.
Neither TSX Venture Exchange nor its Regulation Services Provider (as that term is defined in the policies of the TSX Venture Exchange) accepts responsibility for the adequacy or accuracy of this release.
This news release may contain forward-looking statements. Forward-looking statements address future events and conditions and therefore involve inherent risks and uncertainties. Actual results may differ materially from those currently anticipated in such statements. Factors that could cause actual results to differ materially from those in forward looking statements include the timing and receipt of government and regulatory approvals, and continued availability of capital and financing and general economic, market or business conditions. Southern Silver Exploration Corp. does not assume any obligation to update or revise its forward-looking statements, whether as a result of new information, future events or otherwise, except to the extent required by applicable law.