Southern Silver Exploration Corp (SSV.V; "Southern") has acquired strategic mineral claims adjacent to the southwest of its Cerro Las Minitas project located 70 kilometres northeast of Durango, Durango State, Mexico.
The claim package comprises 2 concessions, known as Biznagas and Los Lenchos, totaling 9600 hectares, which are contiguous to the south and west with the Cerro Las Minitas claim block (see Figure 1). The Biznagas claim was recommended for staking by La Cuesta International, Inc. (La Cuesta) whose previous exploration activities in the region resulted in the discovery of the nearby San Sebastián Mine (Hecla Mining Ltd.) and the San Agustin project (Argonaut Gold). Southern has negotiated a Finder's Agreement with La Cuesta as set out below.
The Biznagas claim is largely gravel covered. Initial prospecting and sampling on the claim has identified a +5km x 2km NW-SE trend of quartz and rhyolite float. Locally quartz veins contain fine black bands and limonite after fine grained sulphides. Results from an initial round of prospecting on the claim by Southern has returned float samples with elevated values of gold (up to 1.28g/t Au), silver (up to 14.4g/t Ag), antimony (up to 481ppm Sb) and mercury (1.4ppm Hg).
The larger Los Lenchos claim covers the intervening ground between the Biznagas and Cerro Las Minitas claims as well covers a prominent magnetic high located approximately 4km to the south of the town of Guadalupe Victoria. The claim is similarly gravel covered.
Southern has initiated a more detailed surface sampling program on both claims to be followed by soil sampling, RC/RAB drilling and trenching scheduled for the balance of 2017. Core drilling to follow-up the newly developed targets is planned for 2018. Based on the surface float and metal signatures from sampling, exploration on these claims is targeting a volcanic hosted epithermal vein system, similar to productive veins at the nearby Avino Gold-Silver Mine and San Sebastian Mine.
Southern has acquired a 100% interest in the claims by staking them in accordance with Mexican Law and making application for issuance of title. Southern Silver has agreed to cause Minera Plata del Sur S.A. de C.V. ("MPS") the holder of the Biznagas claim, to pay to La Cuesta periodic payments on a semi-annual basis accelerating from $5,000 to $25,000 over a ninety-six month period and a 1% NSR with such periodic payments being credited to NSR payments. Subsequent to payment of $5,000,000 in NSR payments the royalty is reduced to 0.5%. All monetary references are to U. S. dollars.
Cerro Las Minitas Project
Current exploration on the company's flagship Cerro Las Minitas property, Durango Mexico has been funded by Electrum Global Holdings L.P. ("Electrum") which has financed a broad range of exploration activities and has earned a 60% interest in the project through completion of US$5.0M in accelerated exploration expenditures on the property, with Southern Silver acting as operator.
The Cerro Las Minitas project contains an estimated Inferred Resource of 17.5Mozs silver and 237Mlbs of lead and 626Mlbs zinc (77.3Mozs AgEq) and an estimated Indicated Resource of 10.8Mozs silver, 189Mlbs lead and 207Mlbs zinc (36.5Mozs AgEq).(1)
A total of 93 drill holes for 37,255 metres have been completed on the Cerro Las Minitas project with total exploration expenditures of approximately US$8.6 million spent through to the end of 2016.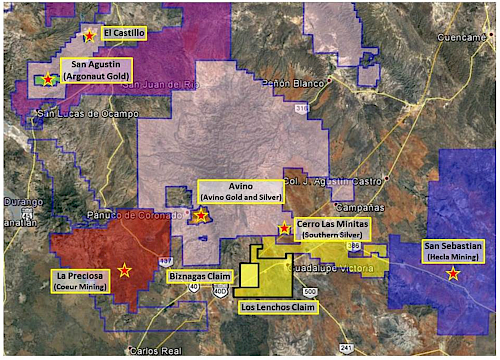 Figure 1: Claim location of the Cerro Las Minitas Project, including the Biznagas and Los Lenchos claims, showing major deposits and mines within the region.
About Southern Silver Exploration Corp.
Southern Silver Exploration Corp. is a precious metal exploration and development company with a focus on the discovery of world-class mineral deposits in north-central Mexico and the southern USA. Our specific emphasis is the Cerro Las Minitas silver-lead-zinc project located in the heart of Mexico's Faja de Plata, which hosts multiple world-class mineral deposits such as Penasquito, San Martin, Naica and Pitarrilla. We have assembled a team of highly experienced technical, operational and transactional professionals to support our exploration efforts in developing, along with our partner, Electrum Global Holdings LP, the Cerro Las Minitas project into a premier, high-grade, silver-lead-zinc mine. The Company engages in the acquisition, exploration and development either directly or through joint-venture relationships in mineral properties in major jurisdictions. Our property portfolio also includes the Oro porphyry copper-gold project located in southern New Mexico, USA.
The 2016 Cerro Las Minitas Resource Estimate was prepared following CIM definitions for classification of Mineral Resources. Resources are constrained using mainly geological constraints and approximate 10g/t AgEq grade shells. The block models are comprised of an array of blocks measuring 10m x 2m x 10m, with grades for Au, Ag, Cu, Pb, Zn and AgEq values interpolated using ID2 weighting. The models identified at a 150g/t AgEq cut-off, an indicated resource of 3,724,000 tonnes averaging 90g/t Ag, 0.05g/t Au, 2.3% Pb, 2.5% Zn and 0.09% Cu and a cumulative inferred resource of 6,611,000 tonnes averaging 82g/t Ag, 0.17g/t Au, 1.6% Pb, 4.3% Zn and 0.2% Cu. Mineral Resource cut-offs are estimated using an average long-term price of $15/oz silver, $1,100/oz gold, $2.75/lb Cu, $0.90/lb lead and $0.90/lb zinc and metal recoveries of 82% silver, 86% lead and 80% zinc. AgEq calculations did not account for relative metallurgical recoveries of the metals. All prices are stated in $USD. Mineral Resources are conceptual in nature and as such do not have demonstrated economic viability. The current Resource Estimate was prepared by Garth Kirkham, P.Geo. of Kirkham Geosciences Ltd. who is the Independent Qualified Person responsible for presentation and review of the Mineral Resource Estimate.
Robert Macdonald, MSc. P.Geo, is a Qualified Person as defined by National Instrument 43-101 and responsible for the supervision of the exploration on the Cerro Las Minitas Project and for the preparation of the technical information in this disclosure.
On behalf of the Board of Directors
"Lawrence Page"
Lawrence Page, Q.C.
President & Director, Southern Silver Exploration Corp.
For further information, please visit Southern Silver's website at southernsilverexploration.com or contact us at 604.641.2759 or by email at ir@mnxltd.com.
Neither TSX Venture Exchange nor its Regulation Services Provider (as that term is defined in the policies of the TSX Venture Exchange) accepts responsibility for the adequacy or accuracy of this release.
This news release may contain forward-looking statements. Forward-looking statements address future events and conditions and therefore involve inherent risks and uncertainties. Actual results may differ materially from those currently anticipated in such statements. Factors that could cause actual results to differ materially from those in forward looking statements include the timing and receipt of government and regulatory approvals, and continued availability of capital and financing and general economic, market or business conditions. Southern Silver Exploration Corp. does not assume any obligation to update or revise its forward-looking statements, whether as a result of new information, future events or otherwise, except to the extent required by applicable law.