Southern Silver Exploration Corp. ("Southern Silver" and the "Company") reports that it has received assay results from the final two core holes of its 4,050-metre, 2022 drilling program at its wholly owned Oro property, located in the Laramide-age, porphyry copper belt in southwestern New Mexico, USA.
Hole OR22-012 tested a strong ZTEM geophysical anomaly in an area believed to be relatively high in the metal system and where Cretaceous-age carbonate host rocks were expected to lie at relatively shallow depths beneath Laramide-age andesite volcanic rocks. The hole intersected veins with strongly anomalous gold ( 12.4 g/t over 0.8 metres at 495.7 metres depth)* in a banded anhydrite+pyrite+calcite breccia vein and, deeper in the hole, intersected anomalous silver and lead ( 908 g/t Ag and 10.4% Pb over 0.2 metres at 594.6 metres depth ) in a barite+galena vein, consistent with expected metal zoning. Favourable carbonate host rocks were intersected with abundant sulfide minerals below a 6-metre-thick massive anhydrite vein at roughly 590-metres depth. The 427.2-metres interval from 578.6 to 1,005.8 metres averages 0.15% CuEq (0.08% Cu, 0.01% Mo, and 1.4g/t Ag), with variable mineralization continuing to the end of the hole at 1,006 metres depth. The strongest mineralization is 9.1 metres of 0.59% Cu, 0.01% Mo, 0.3 g/t Au, and 2.3g/t Ag (0.92% CuEq) from 834.5 to 843.7 metres in a carbonate replacement zone with abundant magnetite, specular hematite, and epidote with minor pyrite, calcite, and anhydrite. Dikes ranging from unaltered to strongly altered are common throughout the hole.
Hole OR22-012 only tested a portion of the strong ZTEM anomaly in the area leaving a significant strike-length and width of the anomaly remaining for further drill testing. An additional 56 Federal lode claims were staked to cover the possible extensions of the copper-rich skarn/CRD mineralization intersected in OR22-012. Mapping of the new claims has been completed, with samples submitted for analyses.
Hole OR22-013 is an offset to the first two holes of the 2022 program, which partially tested the porphyry target identified through earlier geological compilation, clay-alteration studies and ZTEM airborne geophysics. These earlier holes intersected classic geochemical and alteration zoning demonstrating near-surface, low-temperature prophyllic alteration transitioning at depth into a thick zone of strong pyritic/phyllic-alteration, and at further depth transitioning into high-temperature potassic alteration with strong copper enrichment. Hole OR22-011 intersected an unexposed hydrothermal breccia pipe with copper oxides directly beneath gravel cover.
Hole OR22-013 also intersected the breccia pipe with copper oxides beneath surface gravel, intersecting 19.7 metres (12.0 – 32.6 metres) of 0.12% CuEq (0.08% Cu, 0.1% Zn, and 1.7 g/t Ag) before entering much less altered andesite volcanics. Below 485 metres depth, alteration increased to 770 metres depth, below which altered and unaltered dikes and variably altered blocks of sedimentary rocks were encountered, ending in a medium-grained intrusion with patches of disseminated chalcopyrite. The 710.4-metre interval from 413.6 metres to the end of the hole at 1,124.1 metres assays consistently anomalous copper, averaging 0.04% Cu over the entire interval but with higher-grade intervals as noted in the table below. Fragments of quartz veins with chalcopyrite can be found in the intrusion, along with other wall-rock clasts, suggesting a complex evolution of intrusions and related mineralization.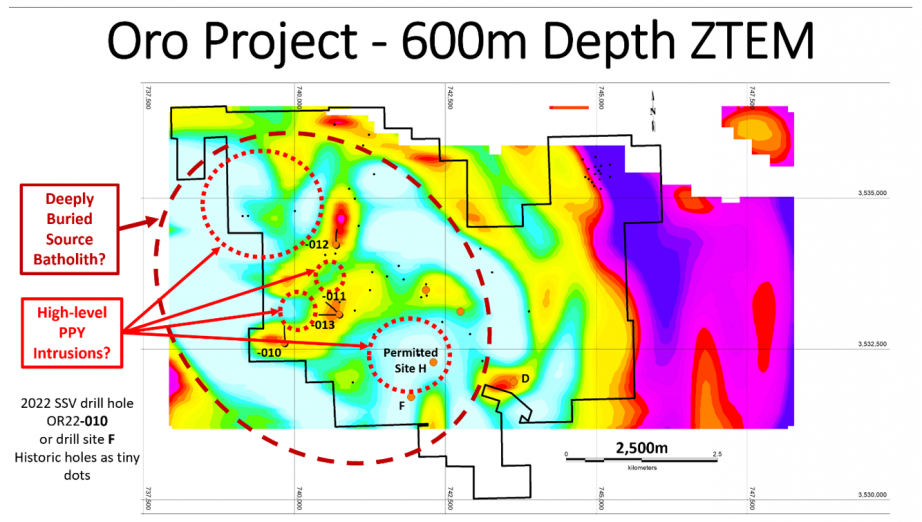 Consultant Joe Kizis commented, "This program greatly advanced our understanding of the Oro mineral system, confirming our belief that the current erosional surface exposes the lithocap, or uppermost portion, of a large Laramide-age copper porphyry system. The ZTEM geophysical data appears to correctly define sulfide-rich phyllic alteration, which typically surrounds the strongest copper values, and the low regions appear to correctly identify several lower sulfide intrusive centers. As observed in many other districts, we can expect the intrusions to provide different endowments of copper, and some will be barren of mineralization. The recognition of breccia pipes beneath shallow gravel cover is important because the breccia pipes may host high grades of copper deeper beneath the lithocap.
The mineralization in hole OR22-012 is very encouraging because it demonstrates the importance of favorable carbonate host rocks, which concentrate copper, and it may indicate that the intrusive center indicated by the ZTEM low to the northwest may be more productive than the intrusive center intersected in hole OR22-013. There is also an intersection of mineralized faults west of hole OR22-012, justifying the new claims recently staked. In addition, the ZTEM high anomaly is strongest north of the area tested by OR22-012, indicating that even higher concentrations of sulfides lie north of the hole and providing another strong target for future drilling."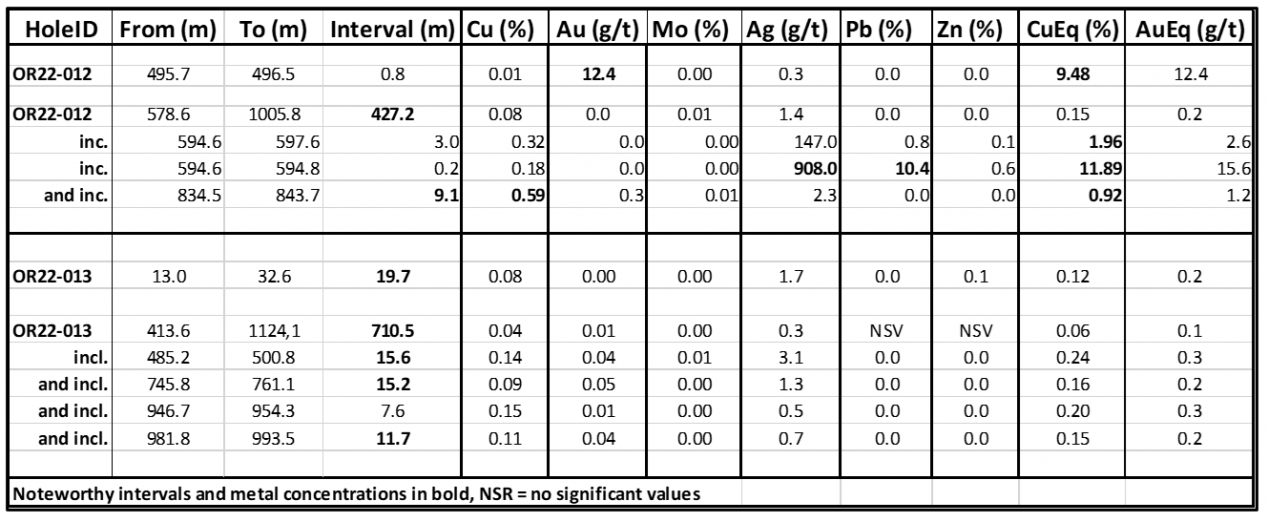 *Note- Estimated true thickness is unknown at this time. Equivalent values are calculated based on prices of $1700/oz Au, $20/oz Ag, $3.25/oz Cu, $1/lb Pb, $1.2/lb Zn and $18/lb Mo assuming 100% metal recoveries.
Corporate Update
Southern Silver announces the appointment of Killian Ruby as Chief Financial Officer effective March 30, 2023. The Company is pleased that Graham Thatcher will remain involved with the Company in an advisory capacity. Killian Ruby is the President & CEO of Malaspina Consultants Inc. in Vancouver and focuses on clients in the resource and junior public sector. Mr. Ruby advises clients on matters related to financial management and public company reporting and is particularly adept at handling complex issues and multiple stakeholders with a collaborative, team-based approach. He is also the principal of the Manex Resource Group of Vancouver which provides administrative, financial, corporate, corporate finance and geological services to a number of public companies in the mineral resource sector. Prior to joining Malaspina, Mr. Ruby was an Assurance Partner at Wolrige Mahon LLP (now Baker Tilly Canada) working predominantly with resource and other junior public companies, and formerly was a Senior Manager with KPMG LLP working on a range of public companies and reporting issuers. He holds a BSc. (Accounting) from University College Cork, Ireland, a Post-Graduate Diploma in Corporate Treasury from Dublin City University, Ireland, and received his Chartered Accountant designations from Canada and Ireland in 2010 and 2002, respectively.
Larry Buchanan has retired from the board of directors and the Company thanks him for his many years of service as a director.
About Oro
The Oro property consists of patented land, New Mexico State leases, and Federal/BLM mineral claims acquired by purchase, staking and lease over the past several years. Several historic mines produced copper, lead, zinc, silver, and gold from discrete portions of the amalgamated property. The property covers a large, well-zoned Laramide-age mineral system consisting of a ring of Carbonate Replacement Deposits (CRDs) around a core of intense sericite-pyrite alteration, which clay mineralogy indicates is the lithocap overlying an unexposed porphyry centre. Targeting for copper mineralization is based upon 3D modelling of data generated by geologic mapping, historic drill holes, geochemical zoning studies, alteration clay zoning studies, and geophysical surveys.
Surrounding the CRD zone are distal-disseminated, sediment-hosted, gold showings, such as at the Stockpond target, where the Company has conducted limited exploratory drilling. The drilling encountered strongly oxidized, disseminated gold mineralization beneath shallow gravel cover that was limited by a post-mineral fault which buried potential extensions beneath a thick cover of gravel and which remains open for further exploration.
About Southern Silver Exploration Corp.
Southern Silver Exploration Corp. is an exploration and development company with a focus on the discovery of world-class mineral deposits either directly or through joint-venture relationships in mineral properties in major jurisdictions. Our specific emphasis is the 100% owned Cerro Las Minitas silver-lead-zinc project located in the heart of Mexico's Faja de Plata, which hosts multiple world-class mineral deposits such as Penasquito, Los Gatos, San Martin, Naica and Pitarrilla. We have assembled a team of highly experienced technical, operational and transactional professionals to support our exploration efforts in developing the Cerro Las Minitas project into a premier, high-grade, silver-lead-zinc mine. Our property portfolio also includes two projects in southern New Mexico: the Oro porphyry/CRD copper-gold project; and the Hermanas gold-silver vein project, where an application has been submitted for a drilling program.
Robert Macdonald, MSc. P.Geo, is a Qualified Person as defined by National Instrument 43-101 and supervised directly the collection of the data from the CLM Project that is reported in this disclosure and is responsible for the presentation of the technical information in this disclosure.
On behalf of the Board of Directors
"Lawrence Page"
Lawrence Page, K.C.
President & Director, Southern Silver Exploration Corp.
For further information, please visit Southern Silver's website at;
ttps://www.southernsilverexploration.com or contact us at 604.641.2759 or by email at ir@mnxltd.com.
Neither TSX Venture Exchange nor its Regulation Services Provider (as that term is defined in the policies of the TSX Venture Exchange) accepts responsibility for the adequacy or accuracy of this release.
This news release contains forward-looking statements. Forward-looking statements address future events and conditions and therefore involve inherent risks and uncertainties. Actual results may differ materially from those currently anticipated in such statements. Factors that could cause actual results to differ materially from those in forward looking statements include the timing and receipt of government and regulatory approvals, and continued availability of capital and financing and general economic, market or business conditions. Southern Silver Exploration Corp. does not assume any obligation to update or revise its forward-looking statements, whether as a result of new information, future events or otherwise, except to the extent required by applicable law.