Southern Silver Exploration Corp. ("Southern Silver" and the "Company") reports that it has verified enriched Rare Earth Elements (REEs) in reconnaissance hole OR22-012, which was part of the Company's 2022 drilling program at its wholly owned Oro property, located in the Laramide-age, porphyry copper belt of southwestern New Mexico, USA. The Company has staked 62 new claims during 2023 to cover the western extension of the buried porphyry/CRD/Skarn system associated with hole OR22-012. The new claims increase the total Oro land package to 334 company-owned and seven leased Federal lode mining claims; two leased New Mexico State parcels; and company-owned private surface and mineral titles covering an area of about 36 square kilometres.
Rare-Earth Element Results
The Company reports that a review of select light Rare Earth Elements (LREEs) from the earlier MS-ICP analyses from hole OR22-012 identified strong LREE enrichment. Thirty-nine pulps were selected from three enriched LREE zones for re-analyses by the more robust analytical method of fusion/ICPMS to confirm the initial test results and returned:
0.104% TREO (1,045 ppm) over 10.9m starting at 613.9m,
0.091% TREO (913 ppm) over 33.8m starting at 647.4m, and
0.128% TREO (1,285 ppm) over 24.4m starting at 794.0m.
All three zones occur within a 427.2m interval of strongly enriched copper mineralization, which was previously reported in NR-02-23, dated April 03,2023, and described below. The three zones (see Table below) average greater than 0.05% Total Rare Earth Oxides (TREOs).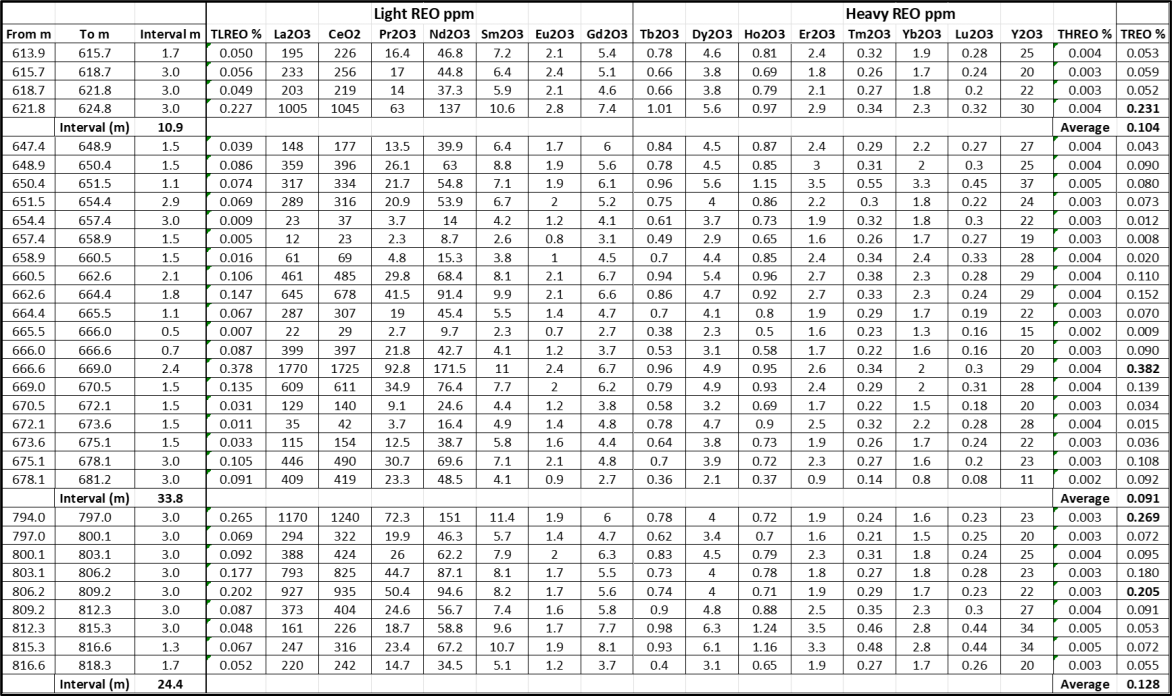 Table of REO values from three REE-enriched zones in core hole OR22-012. Fusion/ICPMS.
Consultant Joe Kizis commented, "The mineralization in hole OR22-012 was initially very encouraging to us because it demonstrates the importance of favorable carbonate host rocks in developing strong copper mineralization. Perhaps importantly, REEs are not enriched in other portions of the Oro property, even within well zoned, but weak, copper porphyry -style mineralization and may thus indicate the porphyry system we believe lies to the west of OR22-012 is unique compared to other porphyries on the property.
More study will be required before we know if there is potential for byproduct REE's at Oro. There are 16 separate rare earth elements contained within at least 245 separate minerals, so metallurgy is very important to understanding the economic possibilities of these potential byproducts. One easily leached REE deposit in the US reports an average grade of 0.06% TREO and is being considered for economic development. However, these lowest grade deposits have a higher percentage of HREEs than we have seen at Oro to date, as well as other coproducts. REEs have many uses, ranging from additives to batteries, magnets, automobile windshields, and ceramics to processing petroleum. With about 90% of REEs being sourced from China, it's not surprising that the US, Canada, and other parts of the world consider REEs as Critical Minerals. With the newly acquired ground, we now have the room to develop these exciting targets."
Drill Hole OR22-012
Drill hole OR22-012 tested a strong ZTEM geophysical anomaly in an area believed to be relatively high in the metal system where mapping, geochemistry and geophysical data suggests a porphyry system lies at depth to the west on the newly stake ground.
The REE-enrich intervals occur within a broad 427.7m* Cu-enriched mineralized zone averaging 0.15% CuEq* (0.08% Cu, 0.01% Mo, and 1.4g/t Ag) and starting at 578.6m downhole (see NR-02-23, dated April 03, 2023). Within the broader mineralized zone, OR22-012 intersected veins with strongly anomalous gold (12.4 g/t over 0.8 metres* at 495.7 metres depth) in a banded anhydrite + pyrite + calcite breccia vein and, deeper in the hole, intersected anomalous silver and lead (908 g/t Ag and 10.4% Pb over 0.2 metres* at 594.6 metres depth) in a barite + galena vein, consistent with expected metal zoning. Favourable carbonate host rocks were intersected with abundant sulphide minerals below a 6-metre-thick massive anhydrite vein at roughly 590-metres depth. The strongest mineralization is 9.1 metres* of 0.59% Cu, 0.01% Mo, 0.3 g/t Au, and 2.3g/t Ag (0.92% CuEq*) from 834.5 to 843.7 metres in a carbonate replacement zone with abundant magnetite, specular hematite, and epidote with minor pyrite, calcite, and anhydrite. Dikes ranging from unaltered to strongly altered are common throughout the hole.
*Note- Estimated true thickness is unknown at this time. Equivalent values are calculated based on prices of $1700/oz Au, $20/oz Ag, $3.25/oz Cu, $1/lb Pb, $1.2/lb Zn and $18/lb Mo assuming 100% metal recoveries.
QA/QC Procedures
Core was logged and marked for cutting and sampling at Southern Silver's Hachita secure core shed, then picked up by Skyline Assayers & Laboratories and delivered to their Tucson, Arizona facility where the core was cut and analyzed. Gold was analyzed by Fire Assay-AAS or gravimetric if overlimit (FA-01 or FA-02) with 47-element ICP/MS multi-acid digestion (TE-5). A QA/QC standard or blank was inserted at least every 20 samples and 10% of the samples were assayed in duplicate. No issues were identified in quality control.
Pulps from three intervals averaging +0.05% La + Ce + Y and shoulder samples were submitted to ALS Chemex in Reno, Nevada and Vancouver, BC where they were homogenized (HOM-01m) and then assayed for High-grade REE by fusion/ICPMS (ME-MS8h). Comparison of Fusion/ICPMS values to MS/ICP values of La + Ce + Y only in the three zones are 0%, +22% and +27%, with individual sample pairs showing more variation. The higher values in the High-grade REE by fusion method reflects the effect of complete digestion of samples and the addition of Pr and Nd contributions, which were not analyzed by the non-fusion method.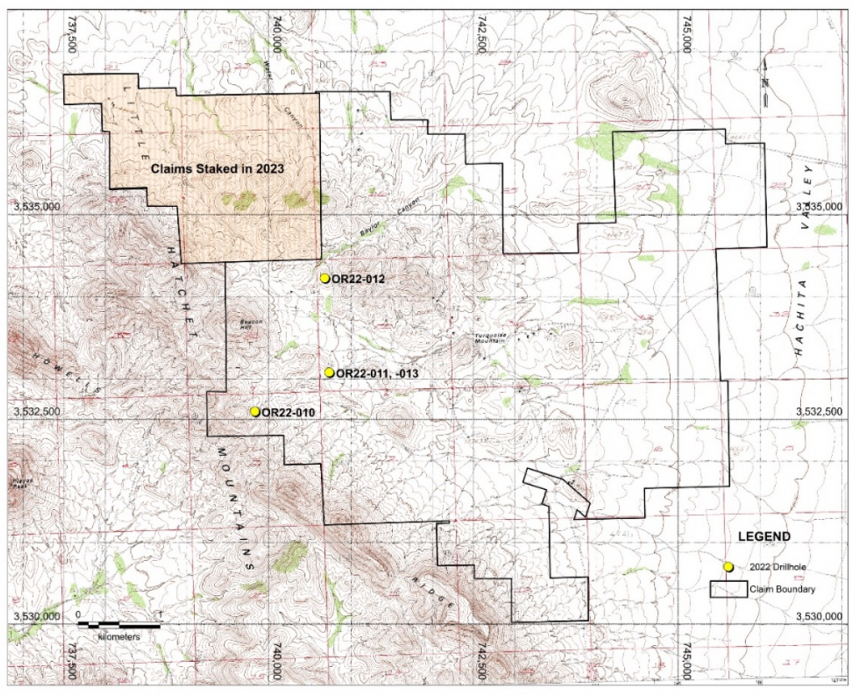 Land map showing new claims staked at Oro Project, New Mexico
Corporate Update
The Company also reports that it is pleased to announce the appointment of Jay Oness as Vice President, Corporate Development. Mr. Oness has over 25 years of corporate communications, strategic marketing and corporate development experience and has been a director and officer of numerous publicly traded North American resource companies. Mr. Oness will be responsible for general corporate development, and supporting management to evaluate and execute new investment opportunities.
He is currently serving as the VP of Corporate Development at Malaspina-Manex Group where he is responsible for overseeing, implementing, and managing various corporate functions and shareholder programs for public and private companies.
About Oro
The Oro property consists of patented land, New Mexico State leases, and Federal/BLM mineral claims acquired by purchase, staking and lease over the past several years. Several historic mines produced copper, lead, zinc, silver, and gold from discrete portions of the amalgamated property. The property covers a large, well-zoned Laramide-age mineral system consisting of a ring of Carbonate Replacement Deposits (CRDs) around a core of intense sericite-pyrite alteration, which clay mineralogy indicates is the lithocap overlying unexposed porphyry centres. Targeting for copper mineralization is based upon 3D modelling of data generated by geologic mapping, historic drill holes, geochemical zoning studies, alteration clay zoning studies, and geophysical surveys.
Surrounding the CRD zone are distal-disseminated, sediment-hosted, gold showings, such as at the Stockpond target, where the Company has conducted limited exploratory drilling. The drilling encountered strongly oxidized, disseminated gold mineralization beneath shallow gravel cover that was limited by a post-mineral fault which buried potential extensions beneath a thick cover of gravel, and which remains open for further exploration.
About Southern Silver Exploration Corp.
Southern Silver Exploration Corp. is an exploration and development company with a focus on the discovery of world-class mineral deposits either directly or through joint-venture relationships in mineral properties in major jurisdictions. Our specific emphasis is the 100% owned Cerro Las Minitas silver-lead-zinc project located in the heart of Mexico's Faja de Plata, which hosts multiple world-class mineral deposits such as Penasquito, Los Gatos, San Martin, Naica and Pitarrilla. We have assembled a team of highly experienced technical, operational, and transactional professionals to support our exploration efforts in developing the Cerro Las Minitas project into a premier, high-grade, silver-lead-zinc mine. Our property portfolio also includes two projects in southern New Mexico: the Oro porphyry/CRD copper-gold project; and the Hermanas gold-silver vein project, where an application has been submitted for a drilling program.
Robert Macdonald, MSc. P.Geo, is a Qualified Person as defined by National Instrument 43-101 and has reviewed and approved the technical disclosure in this news release. Joe Kizis, also a Qualified Person as defined by National Instrument 43-101, supervised directly the collection of the data from the Oro project that is reported in this disclosure and is responsible for the presentation of the technical information in this disclosure.
On behalf of the Board of Directors
"Lawrence Page"
Lawrence Page, K.C.
President & Director, Southern Silver Exploration Corp.
For further information, please visit Southern Silver's website at; https://www.southernsilverexploration.com or contact us at 604.641.2759 or by email at corpdev@mnxltd.com .
Neither TSX Venture Exchange nor its Regulation Services Provider (as that term is defined in the policies of the TSX Venture Exchange) accepts responsibility for the adequacy or accuracy of this release.
This news release contains forward-looking statements. Forward-looking statements address future events and conditions and therefore involve inherent risks and uncertainties. Actual results may differ materially from those currently anticipated in such statements. Factors that could cause actual results to differ materially from those in forward looking statements include the timing and receipt of government and regulatory approvals, and continued availability of capital and financing and general economic, market or business conditions. Southern Silver Exploration Corp. does not assume any obligation to update or revise its forward-looking statements, whether as a result of new information, future events or otherwise, except to the extent required by applicable law.