New Results:
71.5% Combined Gold Recovery from a Sulphide Composite; and +70% Recovery of Leachable Gold from an Oxide Composite
Southern Silver Exploration Corp. (TSX.V:SSV) ("Southern") reports that metallurgical scoping tests confirm the technical feasibility of recovering both free cyanide-leachable gold and refractory gold from pyritic material through a process of fine grinding and hot atmospheric pressure oxidation followed by cyanide leaching. The results are significant as it now allows the consideration of new gold revenues in future economic modelling of the Cerro Las Minitas (CLM) Project. This work is one of several engineering initiatives the company is pursuing to de-risk and increase the value of the CLM project.
Earlier work on the CLM project did not consider the potential contribution of gold in the financial modelling mainly due to low gold grades in the Skarn Front mineralization which made up the majority of the mineral resources on the project. However, post-2020 drilling in the La Bocona, South Skarn and North Felsite regions encountered significantly higher gold grades which represented untapped value to be assessed. Similarly, oxide mineralization which was identified in the 2021 Mineral Resource Update on the project (see NR-21-21 dated Dec., 15th, 2021) was never incorporated into the most recent economic modelling on the project. To assess these factors, Southern Silver initiated a metallurgical test program to understand gold deportment in both the sulphide and oxide resources.
Both sulphide and oxide composites were tested as part of the metallurgical program. Mass balance reconciliations on the sulphide composite testwork indicate that 50% of the total gold is recoverable by hot atmospheric pressure oxidation prior to cyanide leaching at an overall 83.9% recovery. An additional 21.5% of gold is recovered into a copper concentrate at payable grades for a total of 71.5% recovery of gold.
The oxide composite was treated with standard cyanide-leach over a 48-hour period at increasingly finer grinds. Leach extraction successfully returned 70.2% recovery at a p 80 of 75 microns grain size; 74.0% recovery at p80of 53 microns; and 75.1% recovery at a p 80 of 38 microns.
Work continues on the CLM Project with a focus on adding value early in the production time-line for maximum economic benefit. This includes: the scheduling of recently added mineral resources into the economic modelling, further engineering upgrades to the project design; a detailed review of the capital expenditures; and pre-concentration to improve the project economics. Mineralization remains open at depth, particularly on the eastern side of the Cerro which with further exploration can continue to add high margin mineralization early in the production scenario.
VP Exploration Rob Macdonald stated: "Southern is very encouraged by the results from this most recent metallurgical test program on the CLM Project which will allow the incorporation of +70% recoveries of gold from both oxide and sulphide mineralization into the process flowsheet. Of the three commercially proven oxidation techniques, the atmospheric leach has demonstrated what is likely the most cost-effective gold extraction technique which can be easily incorporated into future financial modelling of the project."
Test Program Summary
The test program on the sulphide composite replicates the CLM flowsheet (see NR-07-22, dated Sept., 29th 2022) which incorporated the generation of a pyrite/arsenopyrite-rich concentrate following the recovery of saleable copper, lead and zinc sulphide concentrates. Bench-scale flotation tests were performed by BaseMet Labs of Kamloops, BC. and were conducted on a 53.5kg composite of sulphide mineralization with a head grade of 0.78g/t Au with the majority of the samples taken from more recent, post-2020 drilling on the North Felsite, La Bocona and South Skarn deposits (Figure 1). Rougher concentrates of copper, lead and zinc were produced and cleaned with the Zn tails added to the pyrite/arsenopyrite concentrate for further treatment. The pyrite/arsenopyrite concentrate, in hot solution, was treated with oxygen at atmospheric pressure to convert sulphides to sulphates. The neutralized residue was treated with cyanide to release the gold resulting in 83.9% gold extraction after 48 hours. This equates to 50% of the gold from the original composite recovered by cyanide-leach. A further 21.5% of the gold which reported to the Cu concentrate would be considered "payable" for recovery purposes resulting in a total of 71.5% recovery. Cyanide consumption was 1.25kg/t.
Table 1:Gold deportment in cleaner tests. (Au Head grade = 0.78 g/t)

Cyanide-leach testwork was also conducted on a 50.3kg composite of oxide mineralization sampled from core from mainly the Muralla gold zone, a near surface region of the La Bocona deposit located on the eastern side of the Cerro. The work was carried out by BaseMet Labs at a sample head grade of 1.65g/t Au. Direct cyanidation returned 70.2% extraction at a p80 of 75 microns after 48 hours. Cyanidation at increasingly finer grain sizes returned:
Table 2:Gold extraction from oxide material at varying grain sizes (Au Head grade = 1.65 g/t)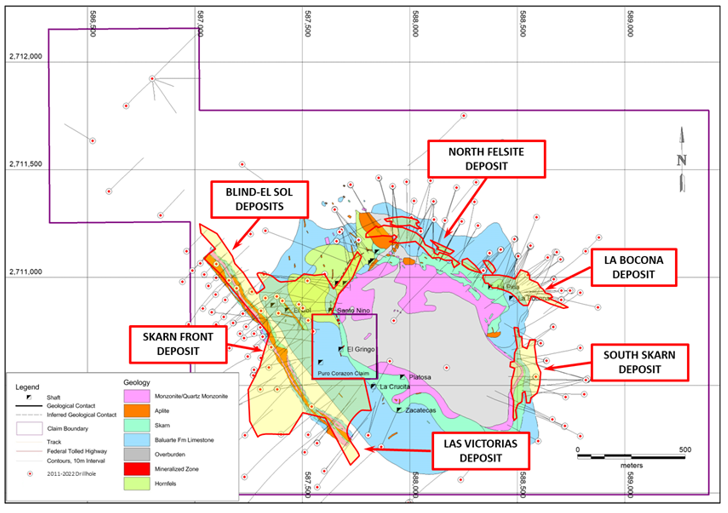 Figure 1: Plan view of the surface projection of the known mineral deposits on the CLM property.
About Southern Silver Exploration Corp.
Southern Silver Exploration Corp. is an exploration and development company with a focus on the identification of world-class mineral deposits in major jurisdictions, advancing them either directly or through joint-venture relationships. Our specific emphasis is on advancing the 100% owned Cerro Las Minitas project, one of the world's largest undeveloped silver-lead-zinc deposits, to a production decision.
Southern has assembled a team of highly experienced technical, operational and transactional professionals to support our efforts in developing (recent robust PEA) the Cerro Las Minitas project into a premier, high-grade, silver-lead-zinc mine. Our property portfolio also includes the Oro porphyry copper-gold project and the Hermanas gold-silver vein project where permitting applications for a drilling is underway; both are located in southern New Mexico, USA.
Qualified Persons
In accordance with National Instrument 43-101 Standards of Disclosure for Mineral Projects, Robert Macdonald, P.Geo, Vice President Exploration, is the Qualified Person for the Company and has validated and approved the technical and scientific content of this news release.
Arthur Barnes, P.Eng, FSAIMM, M.Sc.(Eng.), principal consultant of Metallurgical Process Consultants Limited is responsible for the design and oversight of the metallurgical test program and the mass balance reconciliations used in this disclosure.
Risk Factors
Southern Silver is aware this project is subject to the same types of risks that large precious and base metal projects experience at an early stage of development in Mexico. The Company has engaged experienced management and specialized consultants to identify, manage and mitigate those risks. However, the types of risks will change as the project evolves and more information becomes available.
On behalf of the Board of Directors
"Lawrence Page"
Lawrence Page, K.C.
President & Director, Southern Silver Exploration Corp.
For further information, please visit Southern Silver's website at southernsilverexploration.com or contact us at 604.641.2759 or by email at ir@mnxltd.com .
Neither TSX Venture Exchange nor its Regulation Services Provider (as that term is defined in the policies of the TSX Venture Exchange) accepts responsibility for the adequacy or accuracy of this release.
This news release may contain forward-looking statements. Forward-looking statements address future events and conditions and therefore involve inherent risks and uncertainties. Actual results may differ materially from those currently anticipated in such statements. Factors that could cause actual results to differ materially from those in forward looking statements include the timing and receipt of government and regulatory approvals, and continued availability of capital and financing and general economic, market or business conditions. Southern Silver Exploration Corp. does not assume any obligation to update or revise its forward-looking statements, whether as a result of new information, future events or otherwise, except to the extent required by applicable law.